The future of omnichannel digital ad buying is programmatic, and vice versa. Publishers are increasingly turning to header bidding and wrapper solutions to improve their monetization strategies, but the underlying usage behaviors within emerging formats and platforms is not well understood. PubMatic commissioned Advertiser Perceptions to ask 150 US publishers and app developers to provide insight into the challenges and opportunities they face as they incorporate wrapper technology into their framework. 
Publishers 
Want
Omnichannel Wrappers
While most publishers deploy header bidding and wrapper use for desktop and mobile web inventory, it is still early days for monetizing ads in-app and on connected television (CTV). Emerging platforms pose unique technical challenges for these more complex setups. This, combined with the lack of internal development resources –– one of the top challenges to wrapper adoption – has made some publishers cautious about moving ahead.  
According to the study, improved monetization, improved demand optimization, and improved efficiency were the top three benefits omnichannel publishers gained from utilizing wrappers. While we view monetization performance as table stakes in any solution, offering broad and unique access to demand facilitates supply path and inventory optimization.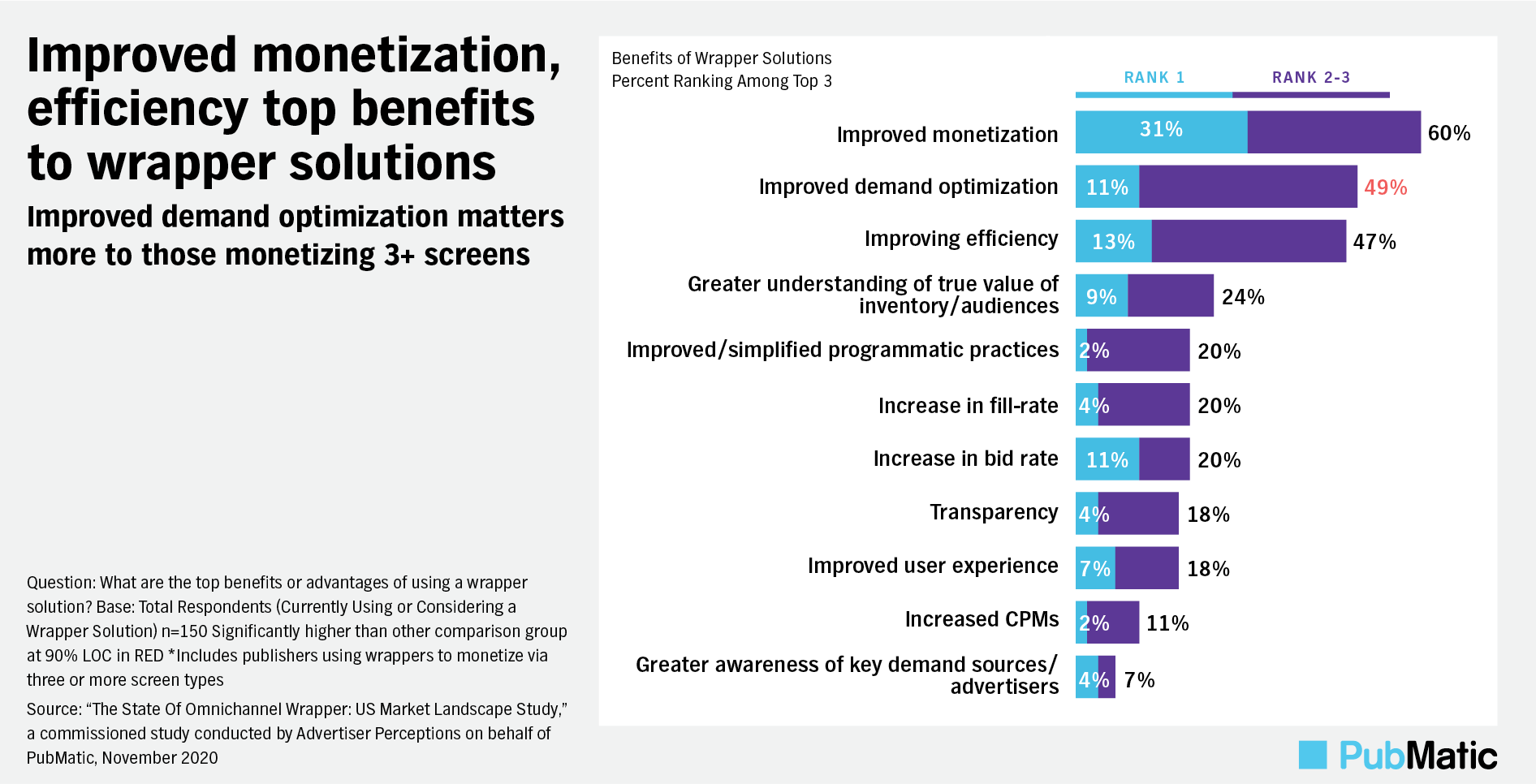 Key
 Criteria 
for 
Choosing
a
Wrapper Partner
According to the study, the decision-driving criteria in choosing an omnichannel partner is the ability to truly increase overall monetization. While this is table stakes, omnichannel publishers also place importance on added criteria: reporting/data analytics, simplified workflow, customer service, ease of implementation and scalability.  
Publishers prefer open–source solutions as they are the most scalable options, and provide improved transparency and flexibility due to the nature of code being produced by the greater ad tech community. Two-thirds of publishers rely on open–source wrappers, and publishers already using wrappers to monetize desktop, mobile web and another screen type (e.g., in-app or CTV) are even more likely to use open source and consider it for future setups. 
Who Do Most Publishers Choose?
Google Open Bidding and Amazon Transparent Ad Marketplace (TAM) server-side integration wrappers are the most used by omnichannel publishers. Among independent wrappers, PubMatic leads, with 33% of omnichannel publishers currently using PubMatic OpenWrap, which works with open-source code. Approximately three in 10 omnichannel publishers use either Index Exchange's Wrapper or Prebid, the latter being the most common open–source solution.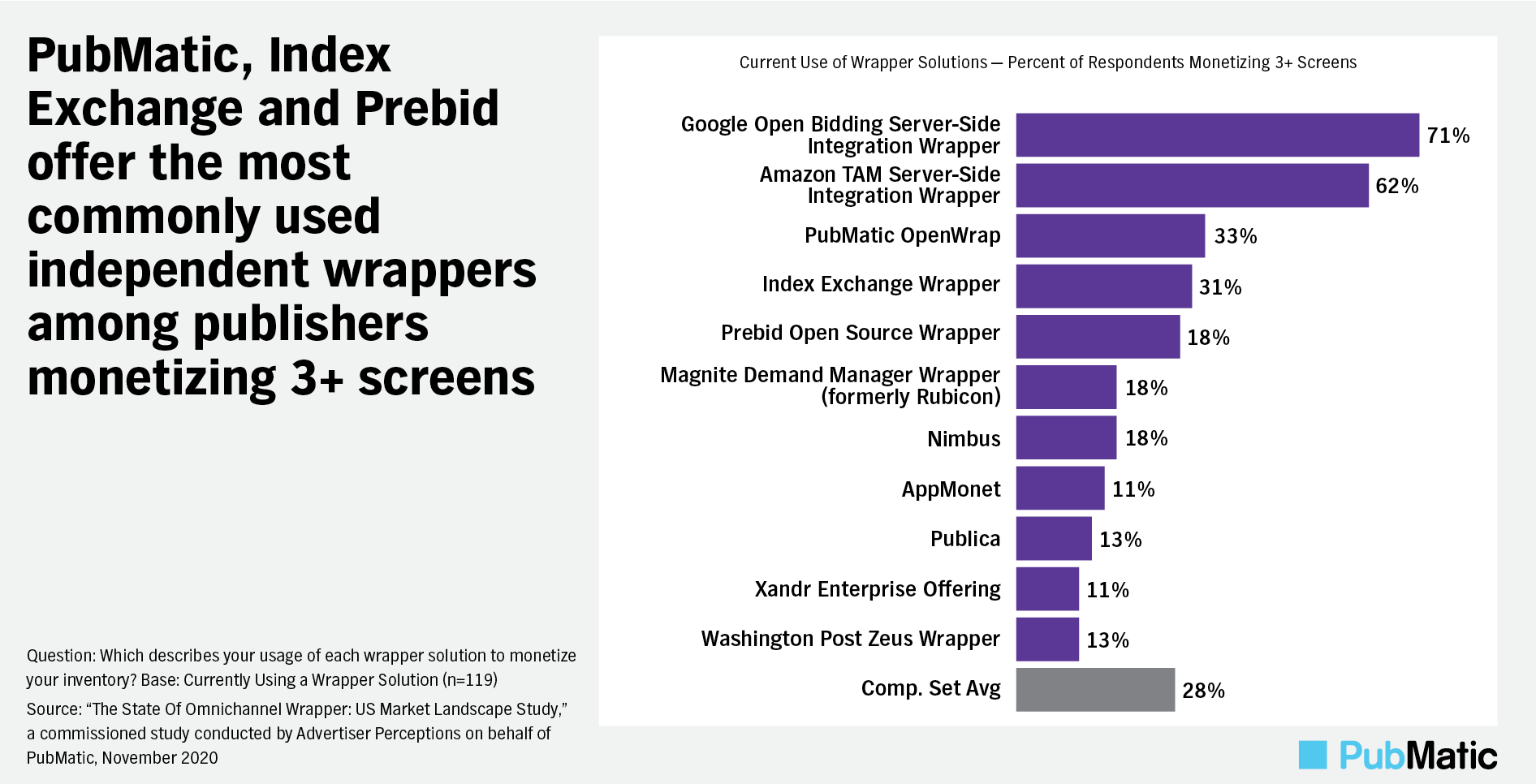 As publishers consider these and other omnichannel wrapper solutions, it is important to look for partners that can provide greater PMP capabilities, scaled access to omnichannel demand and greater protection of first-party data, along with a consultative approach to partnership. 
For more data and insights from Advertiser Perceptions, download the complete study "The State of Omnichannel Wrapper Solutions: US Market Landscape Study." 
To learn how PubMatic can help you with your header bidding and wrapper solutions, visit our OpenWrap Solutions page or contact us.