PubMatic's Quarterly Mobile Index (QMI) report identifies the latest trends in mobile advertising based on the analysis of 13 trillion advertiser bids flowing through the PubMatic platform each month. These findings can be instrumental in determining real-time trends in mobile while highlighting areas of growth and thus opportunities for future investment or innovation. The trends also provide actionable insights to influence media planning and inform quality processes.
Our Q1 2019 Quarterly Mobile Index (QMI) report highlights a turning point for future mobile advertising growth thanks to the rise in video ads, in-app header bidding adoption, and APAC's programmatic acceptance, while recognizing how the recent ad fraud surges impact media buying behaviors.
Publishers Focus on Video And In-app Header Bidding
PubMatic found that both mobile impressions and ad spending are increasing at almost equal rates, resulting in a much softer decline of eCPMs than previous quarters. The continued upward trajectory of the mobile ad market and stabilization of eCPMs are signaling its inflection point towards market maturity.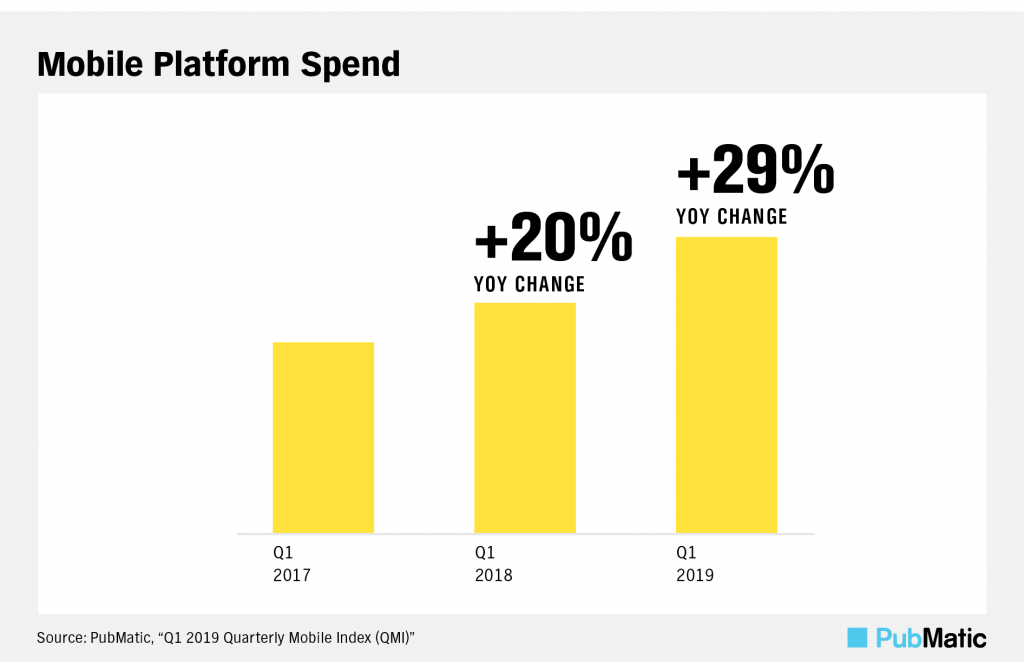 Video content consumption is largely driving this ad surge, and mobile devices are expected to overtake televisions in the amount of time spent this year.[1][2] Nearly half of all video impressions monetized by PubMatic are served on handheld devices. With the promise of 5G technology at our heels, we can expect even faster subsequent mobile video ad spend growth.
To capture ad dollars in the mobile upsurge, in-app header bidding is quickly gaining popularity.  While many publishers are embracing this technology for the first time, the majority of users are already or expect to see gains on their app revenue this year[3] – encouraging further adoption and wallet shift to come.
With Increased Mobile Ad Fraud, Mobile Marketers Find Comfort In PMPs
Recent, large-scale fraudulent attacks, heavily targeting Android apps, had a major impact on how marketers placed their advertising dollars. Not only did total Android ad spending decline, marketers also swung their dollars away from the open market and into private marketplaces (PMPs). In-app ad spend on iOS devices, on the other hand, continued to grow aggressively across both channels, especially in the open market.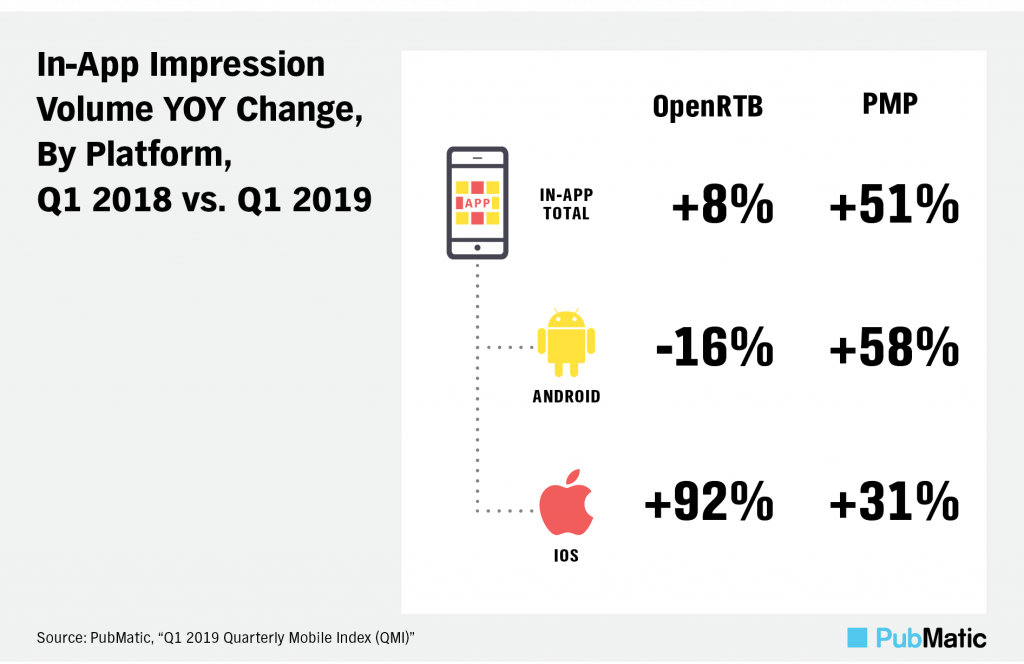 Full Q1 2019 QMI Report
Download the full Q1 2019 QMI and be sure to check back in a few months for our Q2 2019 report. To learn more, check out our mobile solutions or reach out to discuss how we can help you achieve your mobile advertising goals.
---
[1] "People set to spend more time online than watching TV in 2019," Tube Filter, June 8, 2018
[2] "US Time Spent with Media 2018," eMarketer, October 23, 2018
[3] "Header Bidding Research Report 2018," InMobi, December 2018