Each quarter, the PubMatic team analyzes terabytes of data behind the billions of impressions that flow daily through our platform, SEVEN, to identify real-time developments in mobile advertising that can help publishers and advertisers alike unlock the power of programmatic for the mobile channel. According to our Q2 2017 Quarterly Mobile Index (QMI) report, header bidding and private marketplaces (PMPs) continued to drive mobile monetization growth from a tactics perspective, while emerging formats like native and video started to gain traction.
Ad decisioning tactics continued to drive volume and eCPM growth, the report found. Header bidding remained one of the most relevant automation technologies for digital advertising, becoming nearly synonymous with "programmatic" in 2017. Beyond the buzz surrounding the tactic, the benefits of header bidding now span across verticals, devices and regions worldwide, transforming the monetization opportunities for digital inventory. Within our platform, over 80% of global impressions processed across all channels leveraged header bidding technology in May 2017.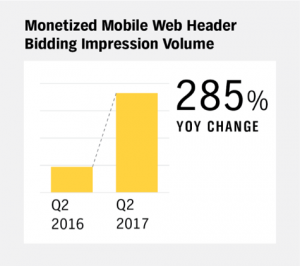 Continuing the upward streak that header bidding has seen this year, the number of monetized impressions enabled by the technology was up 149% YOY across all devices in Q2 2017. Mobile experienced the fastest growth for the tactic, with 285% YOY growth in monetized mobile impressions in Q2 2017, compared to desktop's 130% YOY growth rate during the same period. The asymmetrical pace of expansion brought mobile web's share of header bidding volume to 19% in Q2 of this year, up 7% compared with the same period in 2016.
Even with the heated mobile header bidding volume expansion, eCPMs earned by the technology through this channel improved 148% between Q2 2016 and Q2 2017, outpacing the more modest—yet robust—32% YOY rise in desktop header bidding eCPMs.
Supporting overall header bidding expansion has been the evolution of the technology including both client- and server-side integrations across all formats and devices. We expect holistic header bidding solutions, including the recently announced OpenWrap by PubMatic, to be increasingly important to publishers seeking to take back control over their inventory and determine fair market prices for their impressions.
The Q2 2017 QMI study also found that mobile PMPs added to a growth streak spanning six quarters, both in terms of volume and eCPMs. Advertiser appetite for high quality inventory, featuring enhanced brand safety and viewability, is fueling interest in programmatic direct channels, particularly in mobile. Interest in PMPs and direct deals for mobile audiences is hardly surprising considering that US consumers are expected this year to spend 164 minutes per day with mobile browsers and apps, compared with 49 minutes for desktops.[1]
Against the backdrop of such advertiser needs and consumer trends, monetized mobile PMP impression volume registered a robust 73% YOY change in Q2 2017. Additionally, mobile PMP eCPMs during the quarter improved 23% YOY (nearly twice as fast as the growth rate of overall mobile eCPMs). We expect the upward trend in mobile PMP eCPMs and volume to persist through the rest of the year, driven by demand for programmatic direct targeting mobile consumers and the upcoming back-to-school and holiday seasons.
As formats go, programmatic video has been perhaps the most talked about and sought after format this year. Already, video impressions garner the highest eCPMs of all ad formats served through mobile devices.
Native, on the other hand, is still relatively new to the programmatic scene. While native ads are deeply associated with social media, native spending growth in non-social properties outpaced significantly that of social properties in 2016. Further, mobile represented approximately two-thirds of native.
We've summarized the key findings from our latest QMI in the infographic below, or you can download the full report. Be sure to check back in a few months for our Q3 2017 Quarterly Mobile Index.

[1] "Media Consumption Forecasts," Zenith, May 2017