At PubMatic, hundreds of terabytes in new data are generated daily, with over 12 trillion advertiser bids flowing through our platform each month. By analyzing this wealth of data, we are able to identify quarterly developments that can help advertisers and publishers unleash the power of programmatic for the mobile channel.
Findings from our Q2 2018 Quarterly Mobile Index (QMI) report, released today, show mobile ad spend and volume remained on an upward trajectory, driven by robust in-app advertising growth. Particularly, in-app video gained market share at a rapid clip as advertisers sought to reach highly engaged consumers.
Mobile Programmatic Expands with Apps at the Core
Advertiser investment on the device where consumers spend the vast majority of their time—mobile—continued to rise. Mobile ad spend was up 25 percent YOY in Q2 2018. Of that growing base, apps represent more than half of the expenditures in mobile advertising enabled by PubMatic worldwide, as in-app ad spend expanded 21 percent YOY during the same period.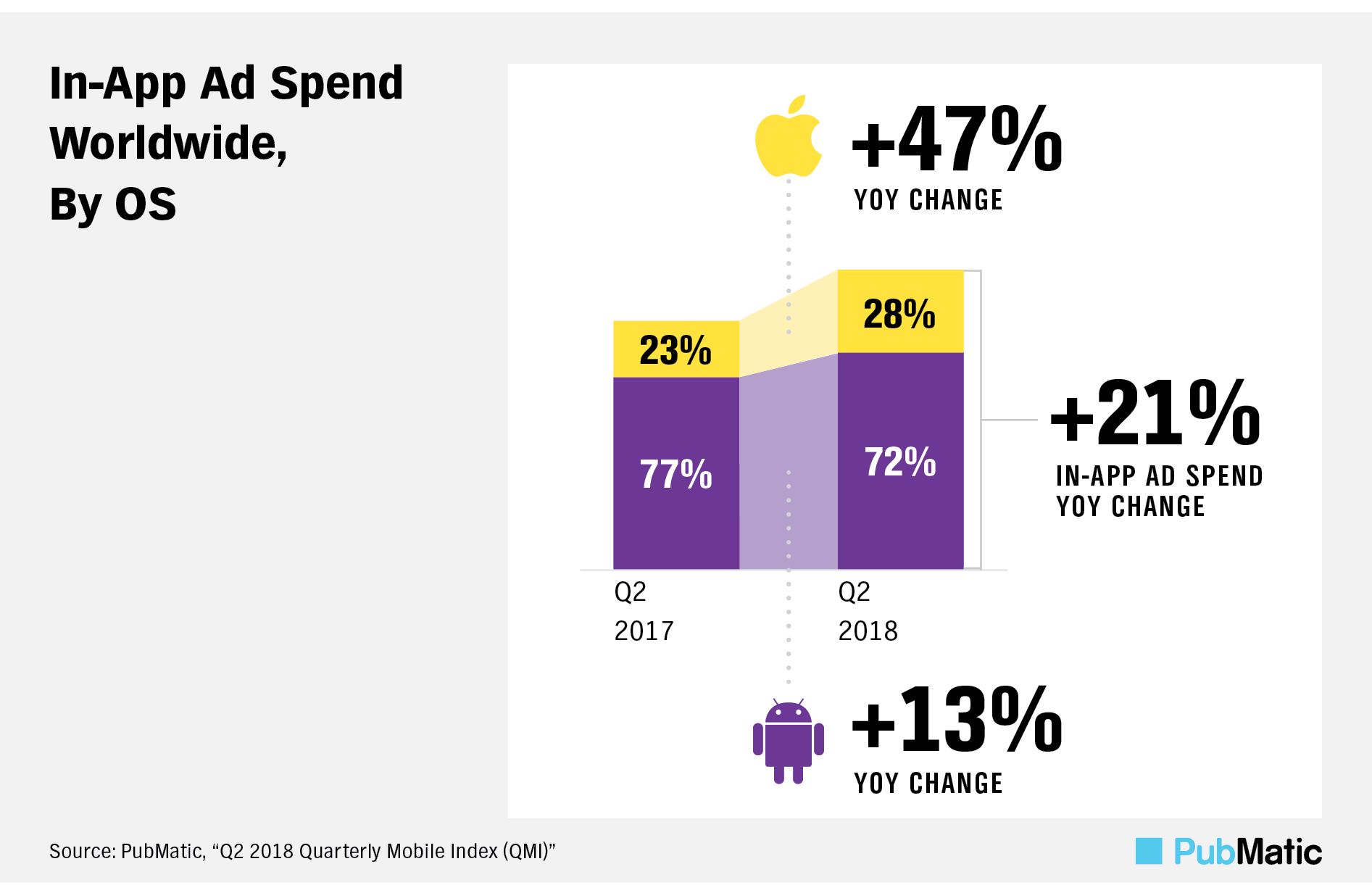 Desktop ad spend will remain highly relevant for the foreseeable future; market-wide forecasts predict little change in absolute terms each year through the end of this decade. Further, worldwide mobile ad budgets are expected to rise at double-digit rates each year, but desktop ad spend will remain essentially flat between 2017 and 2020.1
In-App Surge Fuels Ongoing Mobile Video Growth
Attracted by a massive base of mobile video viewers approaching 2 billion worldwide in 2018,2 advertiser investment in the coveted format through handheld devices is rising. With video consumption shifting toward portable devices, the portion of digital video ad spend devoted to mobile nearly tripled between Q2 2017 and Q2 2018.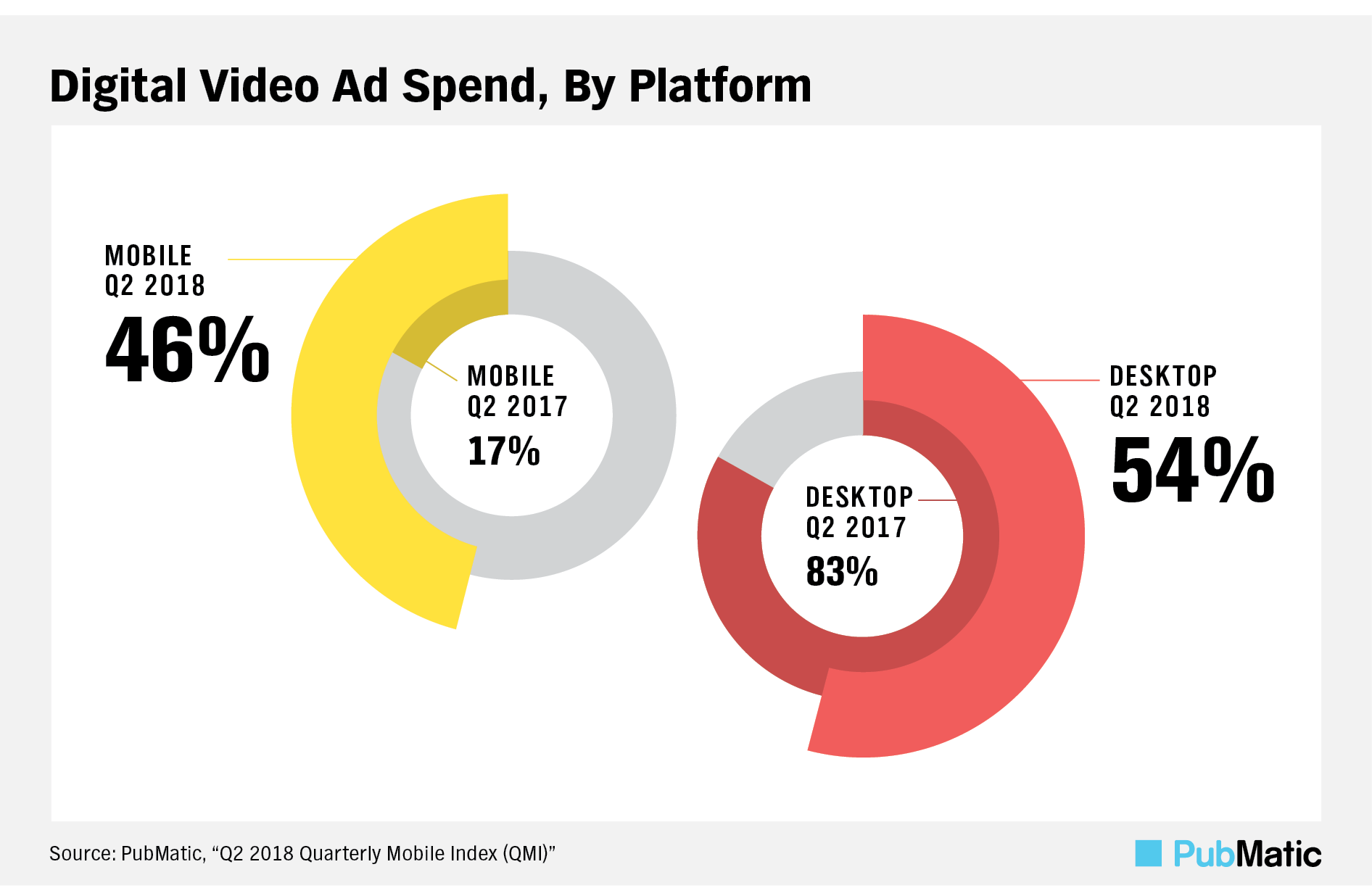 Apps have been the bedrock of mobile video ad spend expansion in the past 12 months, rising 688 percent YOY to more than double their share of mobile video expenditures in Q2 2018. Advertisers have plenty of incentive to shift video budgets to apps as consumers flock to watch their favorite video content in these environments. Among US adults, for example, 85 percent of daily time spent watching mobile video content will occur on apps this year.3
Full Q2 2018 QMI Report
Download all four trends to learn about eCPM trends, the impact of the World Cup and more from our latest QMI report. Be sure to check back in a few months for our Q3 2018 Quarterly Mobile Index or let us know how we can partner with you in the meantime.
---
[1] State of Global Internet," Barclays, based on information from Magna Global and Interactive Advertising Bureau (IAB), with eMarketer calculations, January 2018.
[2] "Global Digital Video Viewers: eMarketer's Estimates and Forecast for 2016-2021, with YouTube and Mobile Video Numbers," Corey McNair, eMarketer, February 2018.
[3] eMarketer, April 2018.