Digital publishers and advertisers experienced a year of reckoning in 2017 as brands increased their investment in programmatically transacted ads. Discussions about the risks of blind-buys, price transparency and the battle against ad fraud took center stage as the imperfections of the supply chain were deeply scrutinized.
Around the globe, CMOs faced mounting pressure from management to minimize brand risk, gain customer trust and tighten digital ad controls. All this pressure is rooted in facts: 43 percent of marketing officials said they have already had reputation problems after a negative adjacency incident—i.e. digital ads appearing next to objectionable content—and 37 percent of them pulled or are going to pull ads because of adjacency issues.1
Private Marketplaces Catch Advertisers' Attention
Advertisers and their agencies are keen to invest in solutions that offer additional brand safety and protection against fraud. But rather than retreating from automation technology, ad buyers are simply refocusing their budgets.
Over one quarter of programmatic decision makers in North America polled in April 2017, said they had plans to shift resources from open exchanges to private marketplaces (PMPs) to help ensure their ads appeared across higher-quality sites.2
Moving resources to PMPs makes sense for brands. PMPs enable advertisers and their buy-side partners to procure premium inventory through relationships with known publishers, not to mention other major benefits such as fee transparency and enhanced performance.
Simultaneously, brands are actively increasing ad spending on the platform where they are more likely to find consumers: mobile apps. On average, 88 percent of daily time spent with mobile devices—nearly 3 hours per day—was devoted to apps worldwide in 2017.3
It is hardly surprising then that PMP volume expanded the most for apps, rising 85 percent YOY in 2017. By comparison, desktop PMP volume rose 15 percent YOY during the same period.
It is worth noting that advertisers are not opposed to paying higher eCPMs, so long as they deliver greater value. Ad buyers are willing to invest on technologies that help prevent reputational risk and bolster the safety of the brand.4
Publishers Embrace PMP Controls and Superior Performance
Completing the virtuous cycle, publishers who sell their digital impressions programmatically find greater comfort on invite-only auctions and deal IDs, which in turn has increased inventory availability through private marketplaces.5
Additional controls over their inventory and partnerships with advertisers enable publishers to bank on one of the most important benefits mobile PMPs have to offer: higher eCPMs. According to PubMatic's Q4 2017 Quarterly Mobile Index, mobile PMPs earned 155 percent higher eCPMs than the average paid for mobile open exchange impressions in 2017.
Beyond eCPMs, PMPs have the potential to lift overall digital revenue by tapping into incremental budgets. Take the case of Livingly Media, a digital publishing company owned by aufeminin, a subsidiary of Axel Springer.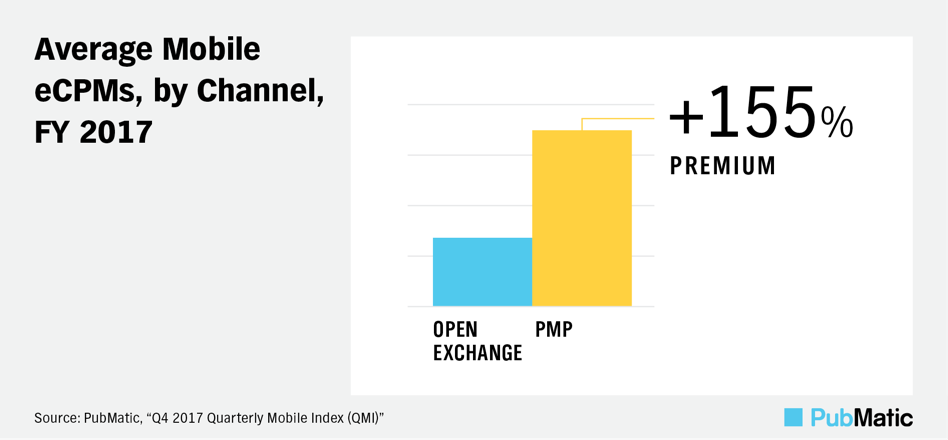 Livingly Media reaches over 20 million monthly readers across four properties and runs a 100 percent programmatic business model for online advertising. They partnered with PubMatic to implement a PMP strategy that increased overall eCPMs by more than 20 percent YOY.
Following successful implementation, Livingly Media's PMP deals quickly gained strong traction with PMP impression volume increasing by a factor of 6X within two months. PMP revenue became a central pillar of monetization strategy in under six months, driving the near-doubling of overall programmatic ad revenue in just three quarters.
More importantly, the gains Livingly Media earned through PubMatic PMP deals proved a lasting trend with year-on-year comparisons showing triple-digit growth rates on both monetized impression volume and revenues, thus driving a strong overall monetization expansion in annualized terms.
Conclusion
Publishers looking for the scale and data advantages of the open market, with the predictability and safeguards of direct sold campaigns, will find private marketplace (PMP) and private marketplace guaranteed (PMP-G) deals provide the best of both worlds. Let us know how we can help you connect to PMP deals today.
---
1 "Brand Protection From Digital Content Infection – Safeguarding Brand Reputation Through Diligent Ad Channel Selection," CMO Council and Dow Jones, September 2017
2 "Advertisers Want Programmatic Tech Players to Fight Fake News," eMarketer, August 2017
3 "2017 Retrospective," App Annie, January 2018
4 "Let's Talk About The Brand Safety Tax," AdExchanger, August 2017
5 "Programmatic 2017 – Programmatic Supremacy," Magna Global, October 2017