In early November, the PubMatic team headed down to Nashville for AdMonster's Publisher Forum, where our Director of Product Marketing, Kelvin Pichardo, and I hosted a breakout session with publishers discussing wrapper solutions.
The goal of the session was to educate the audience around the most important attributes to look for in wrapper technology. Wrappers are re-shaping header bidding and today's solutions come in different forms with different features. Rather than just counting down a list of criteria, we first asked the AdMonsters' attendees to build their own ideal wrappers. This led to some interesting results.
Building a wrapper
The session audience was divided into groups of four to five people, and each group was given a set of building blocks associated with potential wrapper features. The task was to take five minutes to stack the blocks in order of importance to the group, and then later present their wrapper solution to the entire session.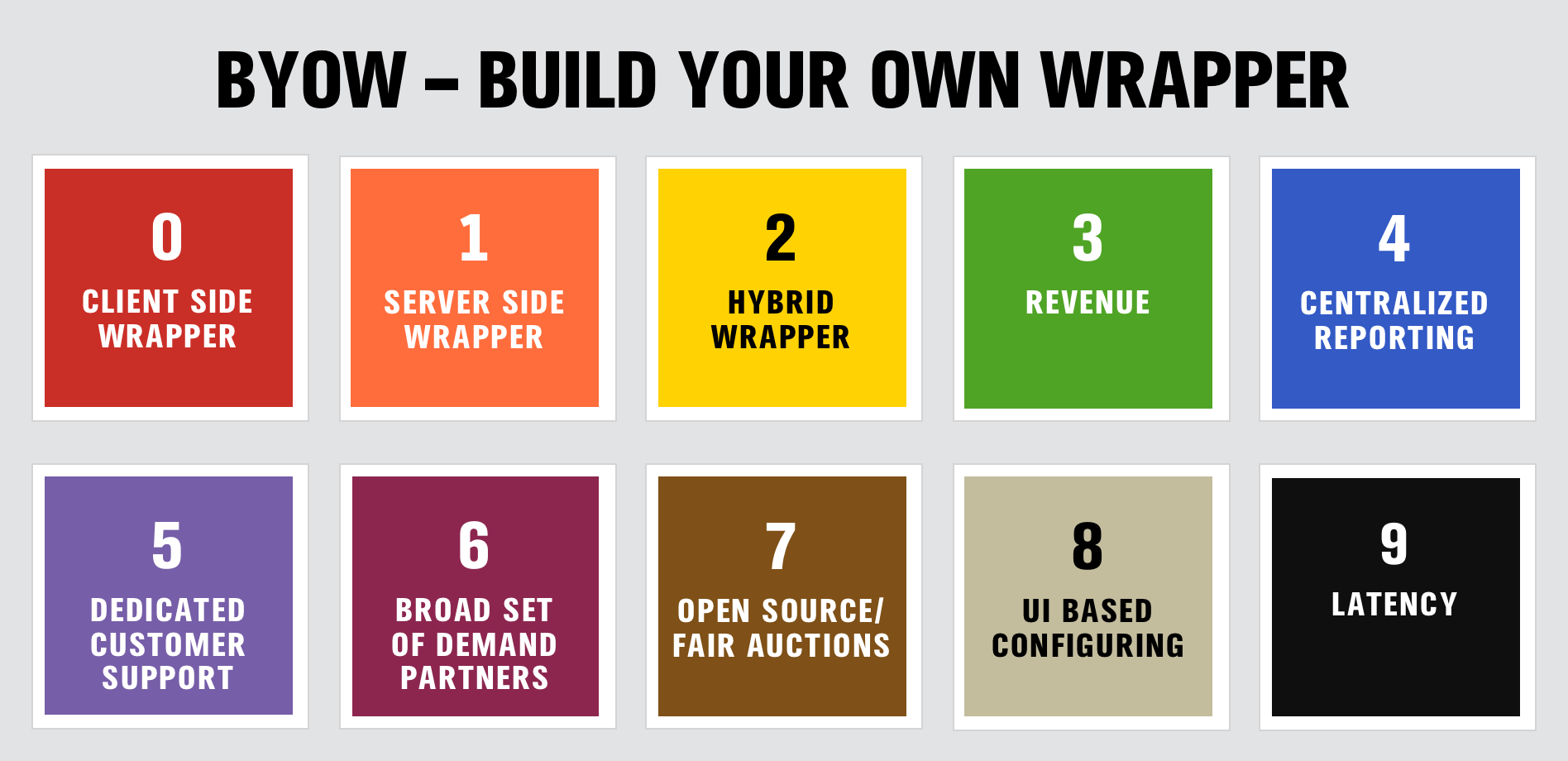 Before the teams presented their own custom wrappers (along with creative wrapper names such as "SaranWrap" and "Billionaire's Club"), Kelvin and I went through our own recommended must-haves for wrapper technology.
Here's what Kelvin and I think are the most important aspects a wrapper should provide:
Must improve monetization: Does the wrapper offer access to a broad set of exchange partners, SSPs, unique demand, and support for PMP? A sound wrapper solution must have a lot and the right kind of demand for the publisher's needs. This includes by inventory type (desktop, tablet, mobile), content type, and audience composition.
Must accommodate hybrid models: Can the wrapper manage both client-side and server-side header bidding in one solution? Publishers need the flexibility to have both options to maximize the number of partners they can work with and easily manage performance issues. Otherwise, they may be creating new complications by running multiple wrapper solutions simultaneously, just as they have been doing with multiple header bidders.
Must simplify operations: Is there an intuitive UI for easily configuring and optimizing demand partners on the fly without development work and code pushes? Does the wrapper offer dedicated account and technical support teams? Managing a wrapper must enable agile action. You don't want to have to send a job ticket or an e-mail to schedule work, when you can do it more effectively and efficiently.
Must offer robust reporting and analytics: Is there built-in, centralized reporting for all demand partners with actionable insights such as latency, bid activity, and revenue reports? Publishers should look for solutions with the ability to provide timely, unified, and robust reporting and analytics. They must be able to easily understand what is happening with the business and use that information to make smart optimization choices. It's especially vital that all the data lives in one place, with simple access. You don't want to be waiting for a report with a two-day lag when your buyers are working in real-time.
Must be open and scalable: Does the wrapper offer an open infrastructure to increase transparency, independence, scalability, and the critical ability to run a fair auction based on your own rules? Is it based on a standardized and open technology like Prebid, one of the most widely adopted open source wrapper scripts?
Back to the blocks
At the end of the session, the teams presented their DIY wrappers and explained why they had prioritized certain features over others. Interestingly, some teams struggled to rank the elements. This is largely due to the fact that wrapper technology is still relatively new to many publishers and many are currently learning the differences between solutions. This led to a debate about prioritization among teams from different kinds of publishers with different needs.
Nevertheless, most teams ranked latency and revenue as their #1 or #2 priorities. Publishers with more directly-sold inventory tended to favor latency as their number-one concern with header bidding and wrappers. Those more dependent on programmatic revenue ranked revenue highest.
Dedicated customer support  came in at #3 for most of the teams, as they desire the help of a partner to launch and manage their wrappers. Although not necessarily a top-three issue, open source/fair auctions were consistently ranked as important to all the teams. Publishers expressed wanting a tech partner that allows them to run a fair auction and drive the highest revenue – with no bias toward the tech partner itself.
Clearly, different publishers have varying pain points and need different things from wrappers. But positive impact on revenue, UI based configuring, latency and open source/fair auctions are themes the industry appears to agree on.
Want to know more?
For more information on choosing the right wrapper technology and how PubMatic OpenWrap stacks up, contact us.