A conversation with Rajeev Goel, Co-Founder & CEO; Amar Goel, Founder & Chairman; Anand Das, Co-Founder & CTO; Mukul Kumar, Co-Founder & Senior Vice President of Engineering

As many of you already know, PubMatic was founded in 2006 by Rajeev Goel, Amar Goel, Anand Das and Mukul Kumar. What began as an ambitious four-person startup has become a global company with more than 350 employees across 11 offices worldwide.
This quarter the team here at PubMatic is celebrating the company's tenth anniversary—ten years of innovating for the digital media ecosystem—and we thought it would be interesting to ask our founders to share their thoughts on PubMatic's early years and how the company, and the team, has grown and evolved since then.
We hope you enjoy this inside look at our company's origins. Be sure to check back as we continue to share more insights from our founders over the coming weeks!
Q: What's your favorite memory from the first year of PubMatic?
Amar Goel: To this day, my favorite memory remains the first time I printed out the wireframes for version 0.1 of PubMatic (remember, this was ten years ago!). I remember having a big smile on my face because this was one of the first physical manifestations of our product coming to life and becoming "real."
Obviously, it wasn't really real until we started serving impressions and helping publishers, but seeing those mockups made the fact that we were doing this truly tangible for the first time!
Mukul Kumar: Although I have many favorite memories from the first year, one of the top ones is when we wrote our first ad server in Java. It wouldn't perform as well as we wanted it to, so I sat up all night debugging the ad server only to completely rewrite the entire thing just a few days later.
My second favorite story is when Amar called me one day to say that it "would be nice to see how many impressions we served" (of course, we didn't have any reporting tools at the time). I asked him, "why would anyone want to see that?" But after about an hour of coding I had written the first reporting interface for PubMatic.
Another good one was when we started hiring and a candidate from Bangalore wanted to fly to Pune for the interview. He asked me, "Who will handle my travel arrangements?" I told him, "Let me transfer you to the Travel Department," and I transferred the call to Andy, who became the Travel Department for that call.
My last favorite memory from the first year are the times when Andy and I would watch the impressions served in front of us and feel great about the software—this was right after we developed the alpha.
Anand Das: There are definitely many favorite memories from the first year. As Mukul said, one of them is when we implemented the ad server in Java and our first customer—an online dating website—started using our service. The ad server used to go down a couple times per day and wasn't performing to the level we wanted. Mukul and I used to be coding and monitoring the ad server and managing both sometimes continuously for 24 hours, although eighteen-hour days were the norm.
At that time I had a collarbone fracture with a rod in my shoulder that needed to be removed, but Mukul and I had agreed that we couldn't continue with the Java ad server based on its performance. Two days prior to my surgery I started rewriting the code in C, completed testing and launched the new server in a day, monitored it for the next day and then checked myself into the hospital for the surgery.
Once I was out of surgery I remember the doctor asking me what an "ad server" was because I'd been talking about it after they administered the anesthetic. The first call I made after I regained consciousness was to Mukul to check on the ad server up time and I was thrilled that it was up and performing well. I remember I also interviewed the second engineer we hired from the hospital.
My second favorite memory from the first year was when Google refused to give us access to their Ad Sense reporting API, even after seeing a complete demo of our system. They gave us that news on February 26th, 2007 and we had our alpha launch with our first client scheduled for March 14th. That was the day that Amar, Mukul and I were very discouraged because our whole idea depended on getting data from the ad networks and using it for optimization. We only had two networks integrated at that time, one of which was Google Ad Sense, and without reporting API access we couldn't do any reporting.
That night Mukul and I had a frank conversation about Google's decision and then we went home, but I couldn't sleep. I started working on the idea of automating the browser to act like a human by logging into the website to access reporting data and I actually got a prototype working.
Mukul and I called Amar the next evening and told him, "We don't need API access, we have a way out." We ended up with a web-wrapping-based reporting solution on our end and launched the alpha without any glitches. It certainly boosted morale, and I remember Mukul and I telling each other that no power can stop us; if we want to do something, we will!
Rajeev Goel: Completing the specification for the first version of the PubMatic system, which I called the "Web Ad Optimizer". It took a lot of work marrying vision with reality, but it was great to put down on paper what we could do so that Mukul, Anand, and Amar could turn it into code.
Another memory is when we were talking to an initial round of 15-20 venture capitalists to see if they were interested in what we were doing. They all said no; they didn't believe anyone could make money charging publishers. While on the one hand that was discouraging, but on the other I knew that we were onto something unique and visionary. Given that most (certainly not all) VCs tend to move in herds, the feedback made sense.
Q: What did you envision for PubMatic when you started the company? Did you ever think it would be as large, global and successful as it is ten years later?
Amar Goel: When we launched PubMatic it was all about how to help publishers and give them new tools. We were the first SSP to launch—it was a very new industry at the time, considering we were the ones starting it. We were the first to bring RTB to the supply side. But even we didn't realize how big RTB would be when we founded the company.
It's truly exciting to see how digital advertising is evolving, and to be on the forefront of that. Programmatic is an uber trend, and we are so focused on making it real for publishers. It has been very rewarding to build a global company with people, cultures and practices from all over the world!
Mukul Kumar: I didn't think it would be so big. We started a "startup," then we began growing. I was very possessive of the software I wrote at first and was reluctant to give up coding after we started hiring engineers, but since then each year has been more amazing than the last.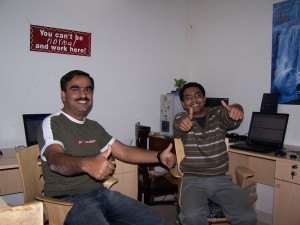 Anand Das: I didn't think it would be so big and at this scale. As Mukul said, we started a "startup" and hoped that our customers would utilize what we were providing. Then we started growing and generating revenue, hiring people, opening up offices in various countries.
Even today I find it difficult not to code, even with all the engineers around—you need to keep the skillset sharp! But since then every year has been even more amazing.
Rajeev Goel: I could have never dreamed that programmatic and RTB would become a $50B+ industry, or that it would become the predominant technology for monetization of premium direct inventory as well as unsold inventory. So no, we did not envision that the opportunity would be so big or that we could build such a big company. We knew that the problem area we were attacking was generally a good space to go after, though.
I also did not think I would have the opportunity, along with Amar, Mukul, and Anand, to manage through so many phases of a company – vision, product-market fit, revenue scaling, profitability, cash generation. These are all very different chapters in the life of a company, and it's rare that Silicon Valley startups move through all phases successfully.
Q: What are the biggest challenges you've faced since founding the company?
Amar Goel: Rapid change always creates challenges. When you're growing super fast it creates challenges around scaling processes and people and being able to think broadly enough. I would say 2013 and 2014 were about super growth at PubMatic. Then 2015 was the opposite side of that as we faced some very tough decisions.
I am so proud of the team for working together and pushing so hard to get through these issues to return us to a position of strength today.
In 2007 when we launched externally we had thousands of publishers and shortly thereafter hundreds of millions of impressions flowing through PubMatic, the industry was so new it was unclear whether publishers would pay. We were confident they would since we were delivering revenue, but many investors thought that the publishers would never pay us Thank god those investors were wrong!
Mukul Kumar: Scaling the product to the next level, hiring the best talent and thinking about what's next!
Anand Das: Definitely scaling the product to the next level before hitting the wall, as well as hiring the best talent and envisioning what's next and then making bets in terms of technology investment.
Rajeev Goel: The product cycles in the industry are very short (RTB, PMP, audience data, header bidding, mobile, video, reporting, etc.) and there are a lot of innovation opportunities. It's always a challenge to figure out what to do and what NOT to do. Of course, if you make the wrong call it can literally end the company – many companies that were around 10 years ago are no longer here because they missed the shift to mobile or they missed the shift to programmatic.
Finding the right team members and helping them scale as the company has scaled is also a significant challenge but incredibly important to get right. As discussed earlier, we have been through many phases of the company in the past 10 years, and success requires very talented, passionate, and flexible people at all areas in the organization. We have honed our focus on supporting our team members and helping them both to be successful and to grow themselves professionally, which is very rewarding.
---
Stay tuned for more insights from PubMatic's founders when we release the rest of our discussion, touching upon the changes they've seen in the industry over the last ten years, what they expect to see in the next five years, and some of the biggest surprises they've encountered during their PubMatic journey.