Analyzing 13 trillion advertiser bids flowing each month through our platform, the PubMatic team identifies real-time trends and developments to inform advertisers and publishers how to maximize the power of programmatic on the mobile channel. Findings from our Q4 2019 Quarterly Mobile Index (QMI) report show the importance mobile plays in video advertising, header bidding growth in-app, and how evolving holiday shopping behaviors are impacting mobile ad spending.
IN-APP ENVIRONMENT LAUNCHES VIDEO ADVERTISING SPENDING TO NEW HEIGHTS
PubMatic found that in-app video advertising boomed considerably over last quarter. The increase in time spent watching videos in-app largely drove this growth. Half of mobile time spent watching digital videos were on episodic or cinematic content, where video length is 21 minutes or longer. The rise in ad spending, and viewers, was ubiquitous; all regions worldwide saw a spike in ad spend over Q3. Spending in both Americas and EMEA grew faster this year than the same time last year.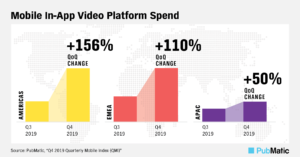 ICROSS-PLATFORM HEADER BIDDING UNWRAPS MOBILE VIDEO AD REVENUE POTENTIAL
2019 was a pivotal year for header bidding. Overall header bidding ad spending in Q4 rose 51% over last quarter, showing slower growth than last year – signifying market maturity. The majority of this growth came from mobile devices – propelling the mobile share of header bidding to 55% percent. The adoption of first-price auctions and less labor-intensive SDK-level integration efforts is finally allowing in-app ads make significant strides in header bidding transactions.[1] As a result, mobile in-app header bidding spending doubled over last quarter. Mobile video header bidding ad spending growth is outpacing display. This growth is expected to increase further as 63% of publishers are reportedly implementing or expanding their video header bidding solutions on mobile in Q4.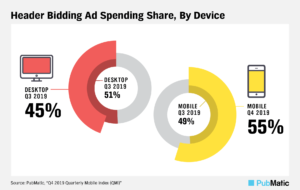 MOBILE IN-APP HEADER BIDDING AD SPENDING, Q4 Q3 CHANGE
Full Q4 2019 QMI Report
Download the full Q4 2019 QMI and be sure to check back in a few months for the first quarterly report of 2020. To learn more, check out our mobile solutions or reach out to discuss how we can help you achieve your mobile advertising goals.
QMI Methodology
PubMatic's yield and data analytics team analyzes over 13 trillion advertiser bids on a monthly basis, utilizing the company's best-in-class analytics capabilities. The Q4 2019 QMI incorporates impressions, revenue and eCPM data from these reports to provide a high-level analysis of key trends within the mobile advertising industry. Data is from the first quarter of 2019 (i.e., October 1, 2019 to December 31, 2019), as well as the corresponding prior year periods. Analysis is based on PubMatic-sourced data except as noted. Percentages in some figures may not sum to 100 percent due to rounding. "Monetized impressions" or "paid impressions" are defined as impressions that were sold through the PubMatic platform, and "eCPM" is defined as the cost per one thousand impressions.
[1] "The Rise of True In-App Header Bidding," Mathew Broughton, ExchangeWire, July 2019