There is perhaps no bigger disruptor to the digital ecosystem that the changes afoot around addressable advertising. To flourish during this period of uncertainty, publishers need a partner that can help manage the complexities of ID management, cross-device and cross-site addressability, and measurement.
In the view of publishers, the right tech partner creates a frictionless platform to manage these complexities, enabling them to focus on testing, developing, and refining strategies.
PubMatic recently commissioned Digiday to investigate how publishers are preparing for the shift in audience addressability as cookies disappear. We've examined the issues of choosing the right partner, including:
ID tracking and management at scale and across devices while eliminating redundancies;
Achieving cross-channel insights; and
How publishers must begin to prepare for the future.
We've also put into perspective the responses to the survey of 60 publisher executives working in adtech operations, business development, and programmatic monetization.
The cookieless future
Search engines such as Mozilla's Firefox and Apple's Safari have already phased out cookies, and Google Chrome will eliminate the identity trackers in 2022. While walled gardens like Google are proposing ad-targeting alternatives such as the Privacy Sandbox within its own browser, players across the industry have questions about the technology and whether it will hinder competition in digital advertising.
With uncertainty swirling around the absence of cookies, publishers need to put privacy-compliant strategies in place to collect and use data. And they'll need to create new methods for managing and tracking unique identifiers if they want to continue to reach people with relevant ads.
Managing IDs across multiple devices
Addressability will require publishers to target users across multiple devices and sites, all while eliminating redundancies — a challenge that 55% of publishers in our survey cited as a chief concern for the future.
In the near-term, leaning into email address data and unique user IDs shows the greatest promise when it comes to addressability solutions.
Publishers must focus on figuring out how to target audiences and specific devices, and then determine how those devices offer a more unified view of a single consumer. Device IDs will also be part of publishers' post-cookie ID graphs, which include other identifiers such as email and IP addresses.
Cross-channel insights
How do these audiences get tied together?
With effective cross-channel insights, publishers can rely less on targeting tactics that annoy consumers and more on smarter ad strategies that drive engagement.
Some experts advise publishers to begin experimenting with measurement tools and resources that they are building in-house, or with SSPs, to create cross-channel analytics. These steps should help publishers deliver more unified reporting to advertisers and prove the success of their campaigns.
Publishers that achieve effective cross-channel insights can develop better targeting tactics. For example, instead of relying on banners to reach as many eyes as possible, publishers can shift to high-impact engagement ads. As the user experience improves, so will campaign success.
Unique ID tracking and management at scale
The biggest obstacle in tracking and managing deterministic and probabilistic IDs is doing so at scale. In our survey, more than half of publishers cited the problem of scaling data sets and solutions to the degree needed to run programmatic programs.
Some survey respondents said they had considered solutions that included subscriber data and geolocation to target emails, but those had low effectiveness. Email address data and unique user IDs based on deterministic data like logins are proving to be effective approaches for publishers. Still, speed and scalability continue to pose challenges.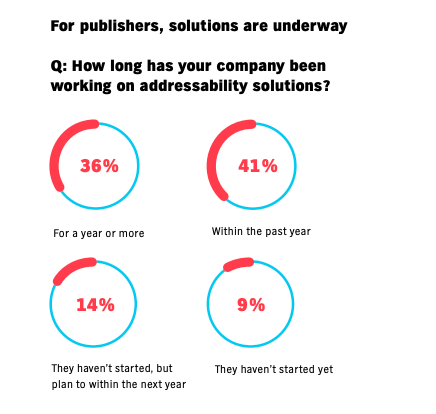 ---
The solutions and data sources publishers are pursuing include email address data, unique user IDs, browser data, IP address data and device data. A majority of survey respondents cited email address data as the most widely used addressability solution.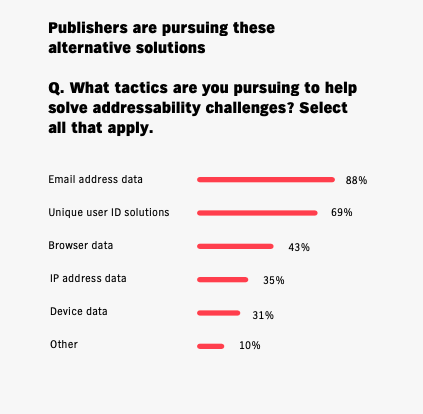 ---
And the ones that appear to be most effective track right along the lines of the ones being most commonly pursued — email and unique user IDs leading the list.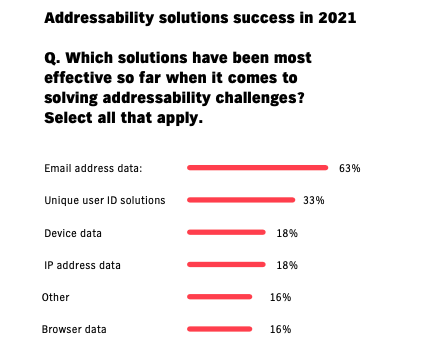 Experimentation is a critical step in post-cookie identity resolution. Solutions like PubMatic's Identity Hub help guide publishers along the path to an addressable future. Download the full Digiday study for more insights.