While the advertising industry has had an unprecedented year, ad–supported connected TV (CTV) advertising is a bright spot. According to eMarketer, U.S. CTV ad spend is estimated to grow significantly this year in this house-bound viewing year, propelled by ad-supported video-on-demand (AVOD) platforms[1]. With the accelerated shift in consumption behavior, why have publishers remained cautious about fully leaning into a programmatic over-the-top (OTT) strategy until now? And could this be the turning point in the industry? 
PubMatic recently commissioned Forrester Consulting to better understand how 150 US publishers are capitalizing on the emerging OTT opportunity, and explore the motivations that drive those strategies and business decisions.  
Where Is The Opportunity Exactly?
OTT ad revenue currently accounts for 30% of programmatic video revenue of US publishers with OTT strategies, according to Forrester Consulting. In the next 12 months, nearly 75% of the study's respondents expect programmatic ad revenue from OTT content, either through mobile app or CTV, to grow more than other digital video channels. In contrast, less than half of respondents expect linear TV advertising revenue to increase. eMarketer explains that the anticipated revenue growth is partially due to dollars shifting from linear national broadcast network TV and into OTT, but also marketers reallocating their upfront spending within media companies and into streaming inventory[1].  
How do you expect your programmatic video advertising revenue mix to change in the next 12 months?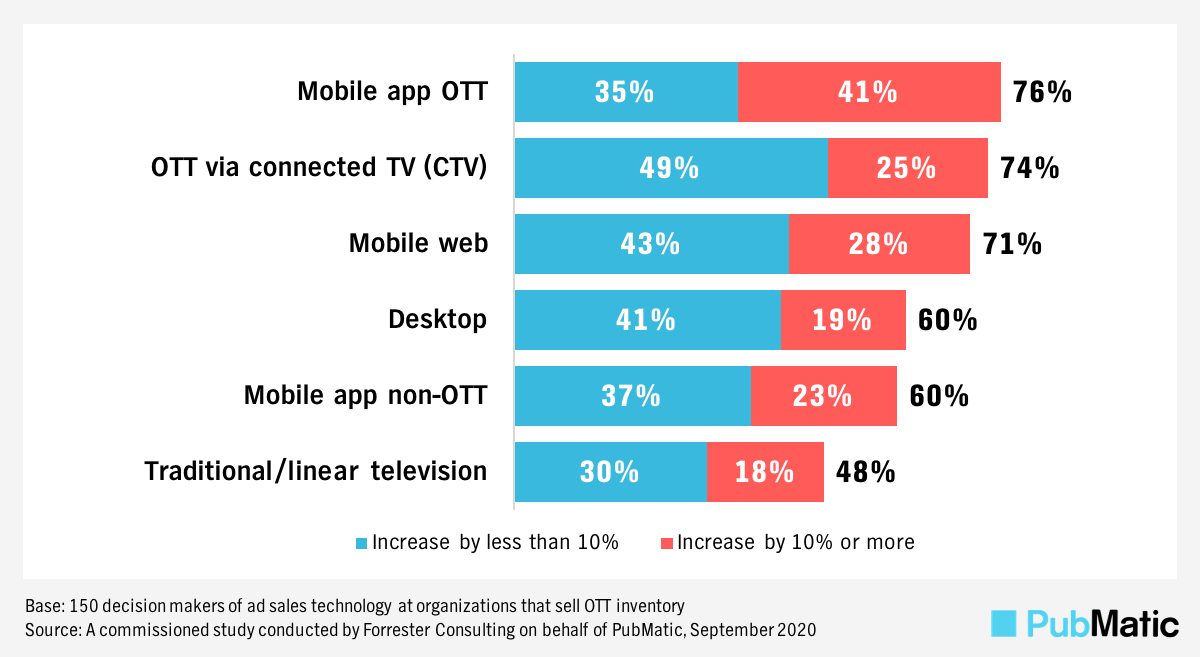 What Key Strategies Come With Embracing A True Programmatic OTT Set Up?
Concerns over inventory control can hinder programmatic adoption; publishers continue to struggle with control over to whom it is sold, control over the audience experience and security safeguards. Nearly 75% of respondents are concerned about lower quality advertisers depressing valuable inventory. Nearly the same percentage of publishers are concerned about a lack of standardized measurement and audience control. Data security and privacy concerns are not far behind; roughly 70% of respondents are concerned about data leakage and poor security controls. For a successful programmatic OTT strategy, it is important to work with a seasoned, premium partner with omnichannel and infrastructure experience to empower publisher control within the ecosystem. Providing transparency into potential quality issues, viewer experience, and security risks should be table stakes. 
How concerned are you about each of the following as it applies to programmatic OTT?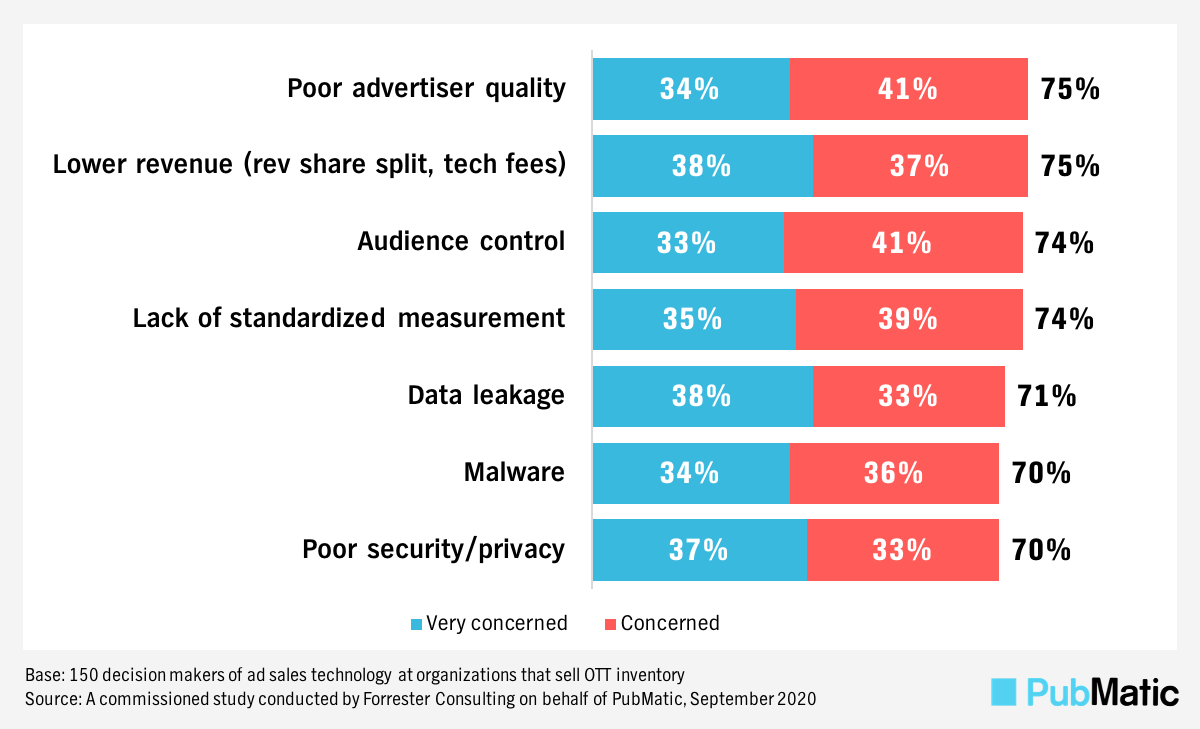 Benefits Extend Beyond Increased Revenues
The study also reveals that auction–based programmatic OTT is anticipated to rise in the coming year, cannibalizing programmatic direct and direct sold transactions. An auction–based programmatic OTT channel strategy extends benefits beyond higher revenue capture, which was the top benefit (42% of publishers), countering publisher concerns that revenue sharing and technology fees would lower returns. 41% of publishers cited improved viewer experience as well as having actionable data and insights to better target audiences as a result of a programmatic application.  
What benefits have you

experienced

or do you expect as a result of implementing programmatic OTT?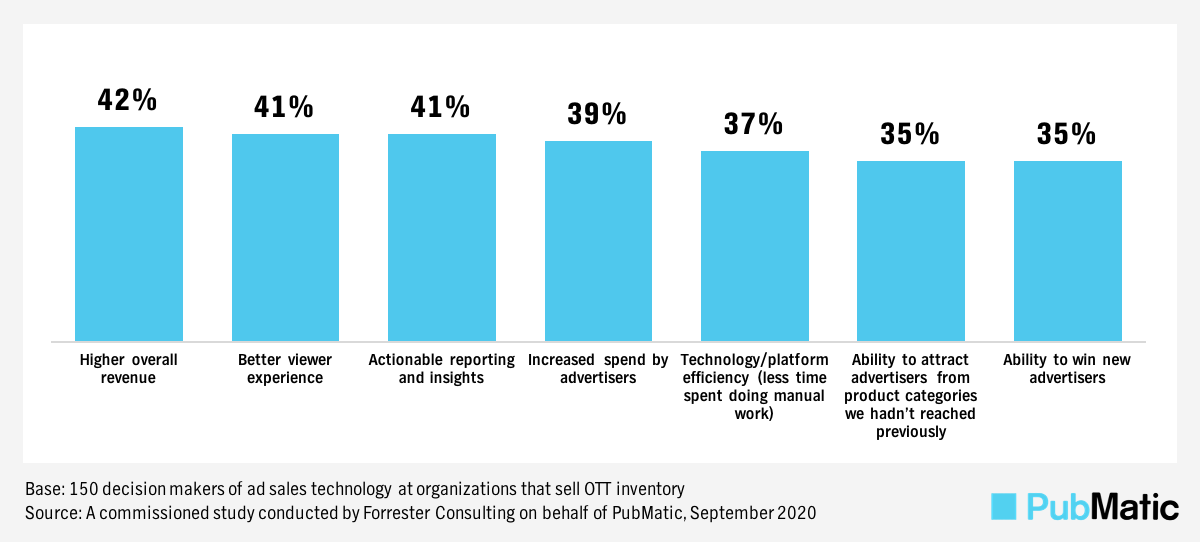 Therefore, if deployed and optimized correctly, programmatic OTT can complement consumer migration to streaming video as a driver of growth in the coming years. The key is to find the right partner who can recognize how OTT differs from traditional digital programmatic practices, can boost new demand relationships, and who provides the necessary technology, tools, and teams.
For more data and insights from Forrester, download the complete study "It's Time For Media Companies To Meet The Streaming Video Moment: How Publishers Can Position Themselves To Capture Programmatic OTT Benefits And Revenue." To learn how PubMatic can help you with your video and OTT content monetization needs, visit our OpenWrap OTT solutions page or contact us.
[1]Nina Goetzen, "AVOD Platforms Are an Ad Market Bright Spot amid the Pandemic," eMarketer, Aug 2020"