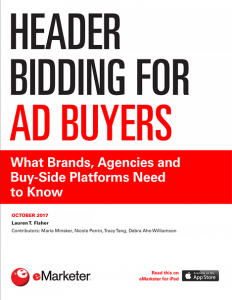 Earlier this month, eMarketer published its Header Bidding for Ad Buyers report, an examination of the benefits and challenges of header bidding technology from the perspective of ad buyers, brands, agencies and buy-side platforms.
Based on interviews with more than a dozen thought leaders from leading brands, agencies and ad tech providers, the study offers an overview of the mechanics of header bidding and assesses the standing of advertisers relative to this technology.
Here are four key takeaways from the report that we trust will pique the interest of programmatic media buyers and sellers.
1. Header Bidding has only just started to spark the attention of advertisers and ad buyers
Polling of US agency and marketing professionals found that nearly half of them think their level of understanding of header bidding was "limited" or null in January 2017. According to eMarketer, experts acknowledged that at least for the time being, multiple brands and advertisers dedicate more attention to aspects of programmatic advertising that bring more tangible and immediate benefits. Header bidding is still being perceived as a tool for publishers, not necessarily buyers.
Despite advertisers and buyers lacking sufficient incentive to evolve their programmatic buying strategy for a header bidding world, there is agreement that they are feeling the effects of the technology in varying degrees.
2. Brands are the least interested in header bidding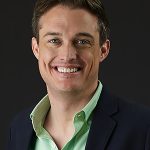 For a significant number of brands, header bidding is more of a buzzword than a concrete area of focus. "There's a lot of talk and consideration occurring, but I haven't really observed any specific changes from advertisers beyond participating in buying inventory through header tags, which happens seamlessly without anything required of them," said Kyle Dozeman, VP of Advertiser Solutions at PubMatic.
Whether brand advertisers outsource the majority of their programs to an agency or buy little inventory programmatically, they are already likely affected by the democratizing force of header bidding.
"The big opportunity at the advertiser level is that header bidding enables the advertiser or agency to more seamlessly compete with direct IOs [insertion orders] within the publisher's ad server," Dozeman said. Beyond the expansion of access to inventory, eMarketer points to pricing and ad fraud as two other areas where the effect of header bidding may be noticed by advertisers.
3. Awareness of the header bidding effect is greater among agencies
Campaign performance is central to the business goals of advertising agencies. With such focus comes greater sensitivity about increasing CPMs and the reshuffling of priority access in the post-waterfall programmatic era. In light of these changes, many are recalibrating media plans and metrics to ensure current campaign performance levels are maintained or even improved.
Sophisticated media buyers are taking advantage of header bidding to vet programmatic partners. "Header bidding is allowing us to really consolidate down where we're spending money—on the exchanges and SSPs—to the one or two that offer the greatest scale, the greatest access to inventory and the highest-quality inventory," said Danny Hopwood, Executive VP of Programmatic for EMEA at Publicis Media.
Agencies and brands that are eager to keep premium inventory available will find that guaranteed deals may be the best choice to retain that access in the face of increasing header bidding adoption. "Reducing the impression volume but paying a slightly higher price likely leads down a path where buyers start to look at guarantees or direct buys," said Jeremy Hlavacek, Head of Global Automated Monetization at The Weather Company, an IBM business.
4. DSPs and exchanges are feeling the greatest effects of header bidding
Buy-side platforms are bearing the brunt of header bidding as the exponential growth in queries per second (QPS) directly impacts their ad tech infrastructure and bidding algorithms.
Several DSPs and exchanges appear to be absorbing the financial costs at the moment. According to eMarketer, some experts believe this is a short-term strategy focused on waiting for buy-side consolidation, that would allow the surviving platforms to increase their market share.
Many buy-side vendors have been looking into supply-path optimization (SPO) in an attempt to find the most direct route to publisher inventory by cutting out intermediaries or severing ties with specific SSPs and exchanges deemed duplicative or nonessential. "If you're a DSP, you want to cut that number down. Otherwise, your technology costs are going to kill you," Hlavacek said. "You need to figure out where you're getting the best inventory, most efficiently and quickly."
Tackling the issue of rising CPMs is also an acute concern for buy-side platforms. This task has been further complicated by the fact that setting higher bid prices doesn't necessarily mean higher win rates. Factors such as bid density, pricing floors and publisher integration of header bidders complicate predictions about where auctions will close.
For the complete set of trends from eMarketer, you can access the report on the eMarketer website.
To learn more about header bidding and auction dynamics, check out our latest white paper on understanding auction dynamics.