With 2018 US Holiday eCommerce sales expected to grow 16.2 percent YOY, potentially reaching $123.4B, according to eMarketer, there's a great opportunity for retail marketers to find more customers online, at scale. But increased opportunity also means increased competition for a customer's attention (and wallet).
Doubling down on media spend alone doesn't guarantee return on your investment. Budgets need to work smarter to go further. Targeted PMP deals (T-PMP) are a smart, cost-effective way maximize reach and drive conversion efficiency.
Over the last 6 months, we've seen impressive lift from PubMatic Targeted PMP deals, run through our programmatic marketing platform.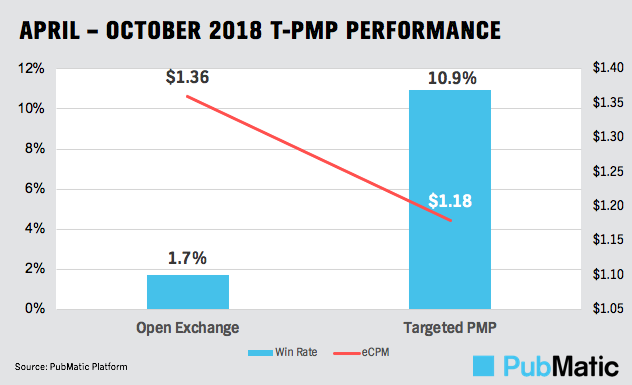 Highlights
5X better win rates vs. open exchange
13 percent lower eCPM vs. open exchange
The data shows that with Targeted PMPs, brands benefit from both broader reach (due to higher win rates) and media efficiency (from lower eCPMs). This lends to an optimal environment for both prospecting and retargeting campaigns.
Increased reach at a lower cost is important but media should be efficient and effective. What can marketers do to get their ads in front of the most relevant audiences, not just broader audiences? PubMatic's solution is high-value audience segments.
What Are High-Value Segments?
High-value segments are proprietary audience groupings that contain the most highly-demanded, recognized users in our exchange. Audiences in a high-value segment are identified through two criteria:
Bid Density (# of demand partners bidding on a unique user ID)
Bid Volume (# of total bids on a unique user ID)
High-value segments are globally available in Targeted PMPs across finance, shopping/retail, technology, travel and auto verticals. Additionally, they are free to use.
How Are High-Value Segments Built?
The segments are built using machine learning techniques to find bidding patterns on cookies or device IDs seen on the PubMatic exchange from both advertisers and publishers.
Segments are created using the 1 billion global user IDs across 1.7 million domains from thousands of advertisers on our platform. The data originates from both advertisers and publishers and is aggregated and anonymized by vertical.
At PubMatic, we take consumer privacy and data integrity seriously. All high-value segments are GDPR compliant, never contain PII info, nor data from 3rd party sources.
Proving the Value of PubMatic's High-Value Segments
In a recent test, we evaluated the performance of PubMatic's "High-Value Audience – All Verticals" segment. The results were staggering: the high-value audience segment drove 90 percent higher conversion rates and 56 percent lower CPA than an identical campaign targeting the same publishers, bid price, frequency and run over the same 2-week period.
Reach and efficiency are table stakes for campaign success but data is the competitive differentiator to get your brand in front of the audiences who are most likely to act. Whether it's integrating your 1st party data or leveraging PubMatic's high-value segments, Targeted PMPs provide the foundation to activate an intelligent data strategy that is critical for success in a crowded Q4 marketplace.
What's Next on the Targeted PMP Product Roadmap?
On November 27th, we'll be releasing a forecasting feature enhancement for Targeted PMP deal creation that allows buyers to plan campaigns more effectively and easily allocate spend across publishers. The new forecasting tool will provide total available impressions by publisher, ad format, platform, audience and geographic location. Learn more on our community site.
Ready to get started? Watch our tutorial video to learn how to set-up a Targeted PMP and start reaping the benefits.
Learn More
To learn more about our PMP offerings, check out our solutions page or contact us.