Auction Packages (formerly known as Targeted PMPs) offer a transparent, targeted, and turbo-charged avenue for buyers to make open market auctions more efficient. As cookie deprecation becomes a reality, programmatic auction packages expand the possibilities for targeting audiences in brand-safe environments — allowing buyers to curate inventory from multiple publishers via pre-packaged deals or custom–curated ones.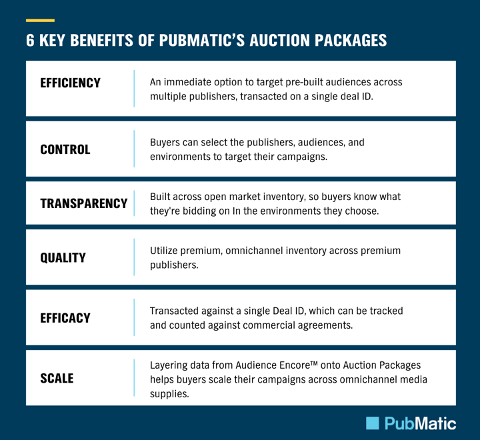 Six Key Benefits of PubMatic's Auction Packages:
Efficiency: An immediate option to target pre-built audiences across multiple publishers, transacted on a single deal ID.
Control: Buyers can select the publishers, audiences, and environments to target their campaigns.
Transparency: Built across open market inventory, so buyers know what they're bidding on in the environments they choose.
Quality: Utilize premium, omnichannel inventory across premium publishers.
Efficacy: Transacted against a single Deal ID, which can be tracked and counted against commercial agreements.
Scale: Layering data from Connect onto Auction Packages helps buyers scale their campaigns across omnichannel media supplies.
A New Era of Programmatic
In the early days of programmatic advertising, real-time bidding (RTB) auctions focused on discounted remnant inventory that couldn't be sold via traditional insertion orders (IOs). As buyers became fluent in the language of automated advertising, new ways of targeting audiences began to emerge utilizing cookies and contextual relevance. Supply graduated from remnant to premium placements, including video and home pages. Major brands and agencies took notice, greatly accelerating the growth of programmatic advertising.
Publishers began creating private marketplaces (PMPs) to work with favored buyers, ensuring premium inventory went to only a select number of bidders. Eventually, buyers began shifting the momentum by demanding greater transparency across the industry, as they started noticing some of this inventory was available in the open market. It also became apparent that setting up individual PMPs with publishers was an arduous task, adding an extra layer of complexity that further taxed working media dollars. Ultimately, buyers began to command more control over how they accessed inventory, further democratizing programmatic auctions.
Now, PubMatic's Auction Packages bring a new way to deliver contextually relevant, curated premium inventory across omnichannel media at scale. Auction Packages deliver greater control, efficiency, transparency, and scale across quality inventory on a fragmented landscape.
Curated Auction Packages
Curated Auction Packages can be customized with filters — such as audience, content, and geography — and can be highly specific. Buyers can select the exact publishers, audiences, and environments they want to target their campaigns to contextually. Audiences could be filtered to target female LatinX sports enthusiasts, for example. Content can be sliced and diced in terms full-episode players, no-news, run of network (RON), COPPA-compliant inventory, and/or :60 ads.
Additionally, geography can be determined on each platform. Buyers can target OTT and CTV audiences by region in order of preference. For instance, buyers using geographic filters for either platform or audience could set up the packages with APAC as the priority, followed by Canada, EMEA, Latin America, or the U.S. With U.S. Auction Packages, buyers can do granular targeting, with many ways to segment in-app, mobile, Connect data, rich media, verticals, video formats, and other measurable KPIs. Then, they can take their generated Deal ID to whichever DSP they prefer.
Better Targeting, Better Relationships
Auction packages are an ideal way to leverage data, contextual placement, and premium inventory to identify publishers that can help buyers and brands target their desired audiences.
Auction Packages help publishers monetize their inventory by providing a clear lens into which buyers are interested in their inventory on a regular basis. With this information, publishers can reach out to these buyers directly and set up broader PMP agreements that offer more favorable prioritization arrangements. Whether pre-built or custom curated, Auction Packages are an efficient, money-saving way to help buyers stretch their media dollars as far as possible while helping publishers monetize their inventory.