The digital advertising market can be a murky one, with increasing calls for more transparency and trust issues over brand safety and ad fraud. The programmatic scene has once again been thrown into the spotlight and questions about the transparency of its supply chain have recently arisen.
According to a report titled "Programmatic supply chain transparency study" by UK advertising body ISBA, done in association with the Association of Online Publishers and carried out by PwC, publishers received half of advertiser spend. Meanwhile, 15% of advertiser spend could not be attributed and the report labelled this as "the unknown delta", which forms around one-third of supply chain costs. That said, the study only takes into account disclosed programmatic models, in which advertisers are able to access the transaction data, fees, and costs across the supply chain.
The study, however, was unable to say with certainty what the unknown delta represents. It could reflect a combination of factors – limitations in data sets, demand side platforms (DSP) or supply side platforms (SSP) fees that are not visible in the study data, post-auction bid shading, inventory reselling between tech vendors, or other unknown factors, the study explained.
Meanwhile, out of 100% of the advertiser spend, 7% went to agency fees while 8% went to DSP and SSP fees respectively. Also, 10% of the spend went to demand side tech fees.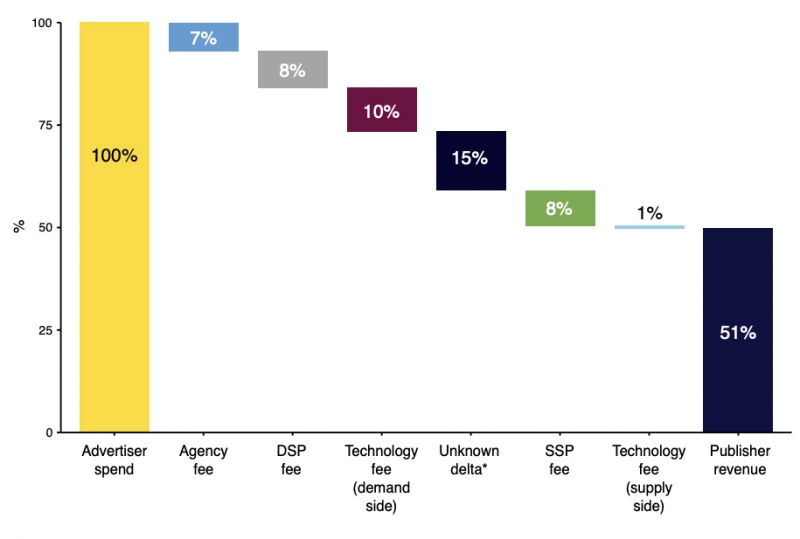 According to the study, publisher revenues ranged from 49% to 67% of advertiser spend for each individual publisher. When giving equal weight to each supply chain, the average was 51%.

For identifiable impressions, 65% of advertiser video spend reaches publishers while display stands at 54%. The study noted that the same is true of private marketplace spend (54%) compared to open marketplace (49%). On the other hand, unidentifiable impressions which are not labelled by format or marketplace, generally had a smaller proportion of advertiser spend reaching publishers, lowering the overall study average.
The study obtained data from 15 brands including British Airways and Tesco, five DSPs, six SSPs, eight agencies and 12 publishers. It noted that standardisation is "urgently required across a range of contractual and technology areas, to facilitate data sharing and drive transparency. Additionally, all industry participants should collaborate to further investigate the unattributed costs and agree upon industry-wide actions to reduce them.
Although the study was only conducted in the UK and hence the UK-focused statistics, programmatic allows for global activation, Laura Quigley, managing director, Southeast Asia at Integral Ad Science (IAS). Hence, ramifications would also be felt in Asia Pacific. Citing a recent World Federation of Advertisers poll on programmatic proficiency and practices in Asia Pacific, Quigley said that programmatic media buying has become commonplace for marketers in the Asia Pacific, with nine out of 10 currently buying media programmatically.
"Now, when we think about programmatic, you have got hundreds of thousands of websites. You have got billions of impressions that can be bid on at any time. You are going to have some issues across those billions of impressions. So, it is about how do we identify those potential problems and how do we deal with them on behalf of our advertisers and clients," she explained. That said, there are tools available in DSPs that can help advertisers improve programmatic buying by targeting brand safe pages, humans and not bots, as well as improve viewability. Quigley added that each step is a building block to connecting brand and consumer through more authentic, viewable, and transparent means.
For example, this means buying from the same publisher from one DSP which is more efficient, as opposed to buying the same publisher across four different DSPs. Hence, making the decision to optimise towards the best option.
Where does the unknown delta go to?
On the other hand, PubMatic's chief revenue officer Jason Barnes said it is difficult to speculate as to whether the Asia Pacific market would see similar trends. To get to the bottom of this, the IAB in Australia has formed a working group to look into the findings of the report and Barnes said PubMatic will be supporting this effort and looks forward to seeing the results.
The delta could be attributed to a variety of factors, such as platform reporting discrepancies, non-transparent vendor rebates or fees, post-auction trading deals, or fraud, among others, Barnes said. He added that further analysis of the data needs to be undertaken to fully determine and understand the identified delta. Only then can a robust conclusion be delivered and an industry-wide effort to address any anomalies, led by the relevant trade organisations, be undertaken, he said.
Meanwhile, Hemant Menon, associate director, programmatic at Dentsu Aegis Network (DAN) Singapore said current programmatic buying practices rely heavily on ads.txt to verify the authenticity of the inventory. Ads.txt is an IAB-approved text file that aims to prevent unauthorised inventory sales. According to Menon, the heavy reliance on ads.txt makes it easier for plenty of supply mediators or resellers who follow malpractices to manipulate the bids, hence resulting in "unknown deltas" in the order of 15%.
Is programmatic a risky space to spend on?
The report's results might leave some wondering if they should reconsider their spend on programmatic. However, players in this space believe that there is no need to push the panic button. PubMatic's Barnes said while the report found that 50% of spend did not go to publishers, the alternative is not that 100% goes to publishers. "Agencies, DSPs, and SSPs, among others, all provide value, and that value is not free," he said.
According to him, buyers have the tools to make intelligent decisions about the ROI benefits they receive from the address-ability and granularity of programmatic versus direct insertion orders.
Likewise, IAS' Quigley said programmatic is not a risky space to spend on. In fact, programmatic advertising plays an important part in supporting an ad-funded open web. "Ad technology can be a powerful lever in improving automation and efficiency for publishers, agencies, advertisers, and consumers. However, industry alignment around standards, harmonisation, and collaboration should be used to address many of the issues identified in the ISBA report. We need to use verification to buy quality inventory," she explained.
There needs to be more cross-platform transparency and media measurement and programmatic allows for that, Quigley said. With new platforms being bought programmatically such as connected TV and digital out-of-home, this will allow for more transparency in the evolving mediums, she explained. "Creating clear industry standards and guidelines about supply chain remunerations will also go a long way in cleaning up the accountability," Quigley added.
Meanwhile, DAN Singapore's Menon explained that programmatic buying gives brands and agencies more control and flexibility on what they actually buy. Hence, it is a better choice when it comes to advertising investments.
Whose responsibility is it to ensure transparency?
The report certainly proves that more transparency is needed in programmatic. To do so, IAB Southeast Asia and India's regional VP education and industry initiatives, Laura Greally, said the first step is to come together as an industry and recognise this is a shared responsibility for all involved.
As the lead for IAB Southeast Asia and India committees and working groups, Greally and her team has uncovered the first few steps of the process to achieve transparency and they are "seek to understand and then to be understood" with extensive regional research.
"Now we are looking to the future and what real solutions are needed so we have formed sub groups to tackle this with perspective from agencies, ad tech vendors and publishers speaking as one voice," she said.
Some ad tech platforms currently have transparency built into their products from major solution partners such as Google and Oracle, to verification partners such as DoubleVerify and White Ops, Greally said. She explained that technical initiatives such as ads.txt and app-ads.txt help improve transparency in the programmatic ecosystem.
She added that to ensure a smoother process when delivering at scale, there needs to be a premium inventory to begin with. The challenge, however, is how "premium" is defined as there is a range of interpretations at the global, regional and local levels. "This means there is a responsibility for all players in the ecosystem to agree to a definition and then make this the standard to accelerate scale across the open marketplace without compromising trust and transparency," Greally explained.
Citing programmatic guaranteed (PG) as an example, Greally said it is premium inventory negotiated at a fixed price directly between media agencies and publishers. According to her, it offers the advantage of ensuring that ads are served in a familiar brand safe environment with the practical benefit to monitor campaigns from a single platform across publishers, channels and devices.
Meanwhile, Greally explained the "lost 15" is a symptom of a larger issue – the industry thinking that reach and impact can be achieved through low cost inventory and simply comparing rate cards or net CPM positions, rather than selecting a supply chain based on the true outcome. According to her, this can also be seen as "spray and pray". She added that marketers should recognise that each ad tech partner brings a different value proposition to the table and that unique insights, offerings and relevance to the business that should be used to distinguish the vendors.
"Choosing a vendor simply because they offer the lowest price, and look great initially for your bottom line, will only end up costing you more in lost brand effectiveness, and cold hard cash, further down the line," she added.
Adding on to the discussion was PubMatic's Barnes, who said marketers should be critical of their supply partners to ensure transparency and efficiency of their media spend. "Buyers who have a clear view of their digital supply chain are more likely to know exactly where and when their media investment is going, and are less likely to be exposed to bad outcomes like having ads end up on fraudulent or low value environments," he added.
At the end of the day everyone in the chain needs to be held accountable for transparency in the programmatic space – from the brand and the agency, to the publisher and all the ad tech partners in between. There is "no one major solve" that will remove this problem with programmatic advertising, IAS' Quigley said. Instead, it requires everyone to conduct their day-to-day work in a more transparent manner.
"But I do think that brands own this more and will need to push for this mandate further. Previously thanks to P&G and Unilever, vociferously propagating for transparency, we have seen standards and best practices develop, and it just needs to get more structured and audited with the entire supply chain being held accountable," she said.
Similarly, DAN Singapore's Menon said the industry needs to work as a collective by adopting technology solutions, the likes of sellers.json and RTB supply chain object, as enablers to transparency. "Along with technology, it is a dire need for buyers and sellers to establish direct relationships to ensure less involvement of resellers," he added.
Different types of transparency
Separately, a recent blog post by IAB programmatic committee members – Xandr's account director Eimear O'Rourke and Spotify's head of automation, SEA, HK and Taiwan Diogo Andrade, identified four different types of transparency in the programmatic space:
Media transparency: Offering visibility and analysis on what was purchased. While impression by impression log level data offers this information, O'Rourke and Andrade said this still requires investment in resources and systems to ingest and analyse it.
Auction transparency: This covers the type of auction that occurred – whether it is first or second price, who participated in the auction, and if the price floors affected the auction outcomes. According to O'Rourke and Andrade, not every auction is properly declared in Asia Pacific, and it can be difficult to spot overpaying without detailed analysis.
Fee transparency: This represents the ability to view how the monetary transaction occurred throughout the transaction between the buyer and seller and know what was deducted and when. O'Rourke and Andrade explained that in Asia Pacific where there is a higher share of app inventory, publishers are often new to ad monetisation and need to know the right questions to ask on how and when fees are taken.
Data transparency: This concerns the type of data that is probabilistic and deterministic and how is it all collected and compiled. O'Rourke and Andrade said that some audience based panels are small in this region, so not as reliable as they may be globally. It is important to understand how data is collected and how to interpret it, country by country.
Written by Janice Tan, originally published in Marketing Interactive