Publishers and buyers agree: While the future of alternative solutions to the third-party cookie is still uncertain, there is tremendous opportunity for an addressable open internet and addressing the issue is a priority for many in 2021.
With the ad tech industry still evolving around the change in identity resolution, both publishers and buyers are taking stock of what their options are moving forward.
A significant portion of publishers are considering their approach to identity resolution—25 percent for web and 39 percent for mobile app—according to a recent study by Advertiser Perceptions (Fig 1). Those who have taken steps towards addressing the challenges, are leveraging first-party data, consulting with identity resolution vendors and adjusting their monetization strategy. As one publisher surveyed said, "First-party data is one of our biggest and most unique selling points. We need either a wrapper partner or SSP or both who we can trust to work with our first-party data and make it accessible when we want it to be accessible."
Figure 1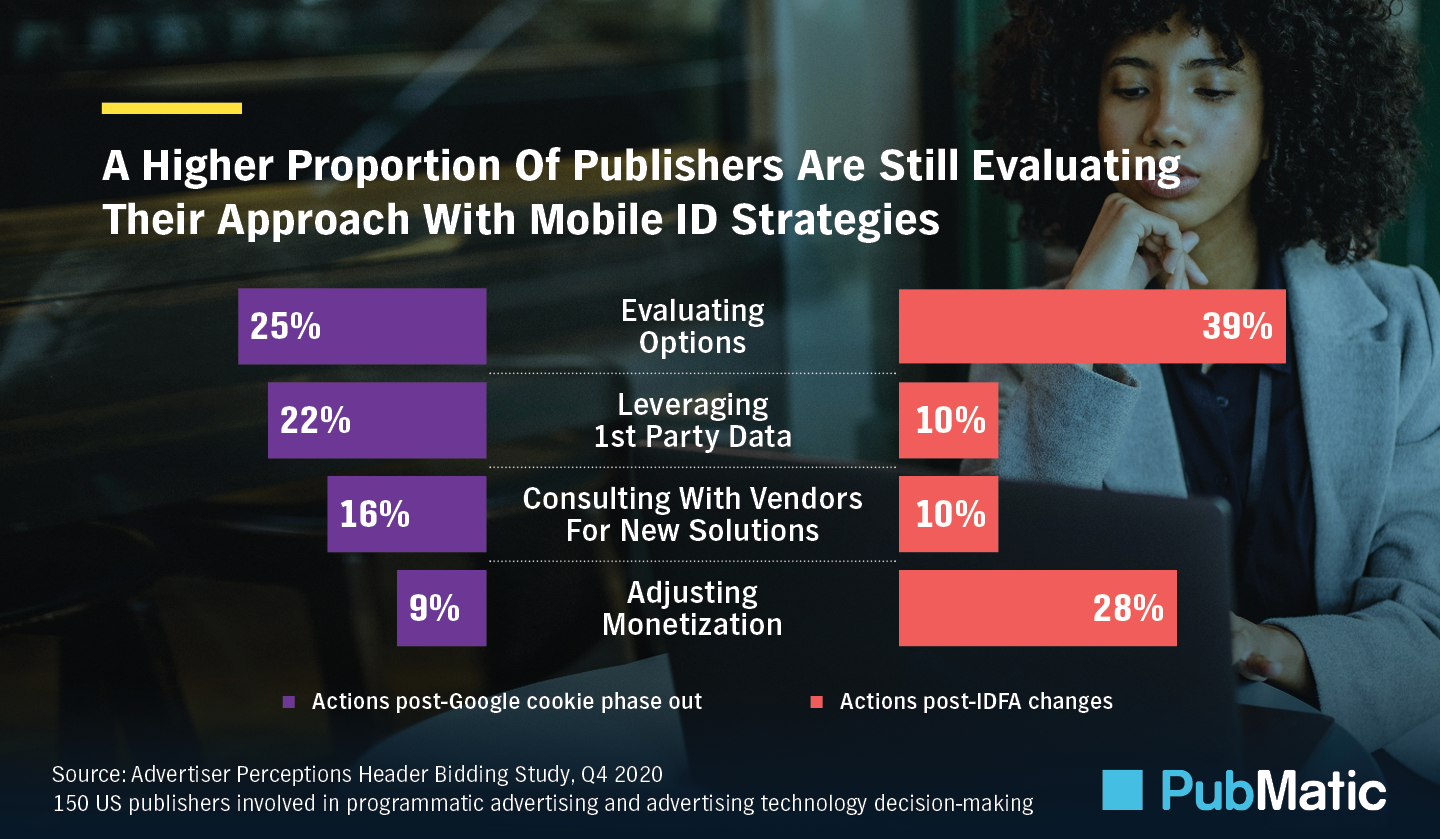 Buyers, on the other hand, have a greater sense of urgency and are leaning into and investing in the offerings of advertising technology vendors. Nearly half of all brand marketers and agencies indicated they plan to spend more on identity resolution issues in 2021 than they did in 2020 (Fig 2).
Figure 2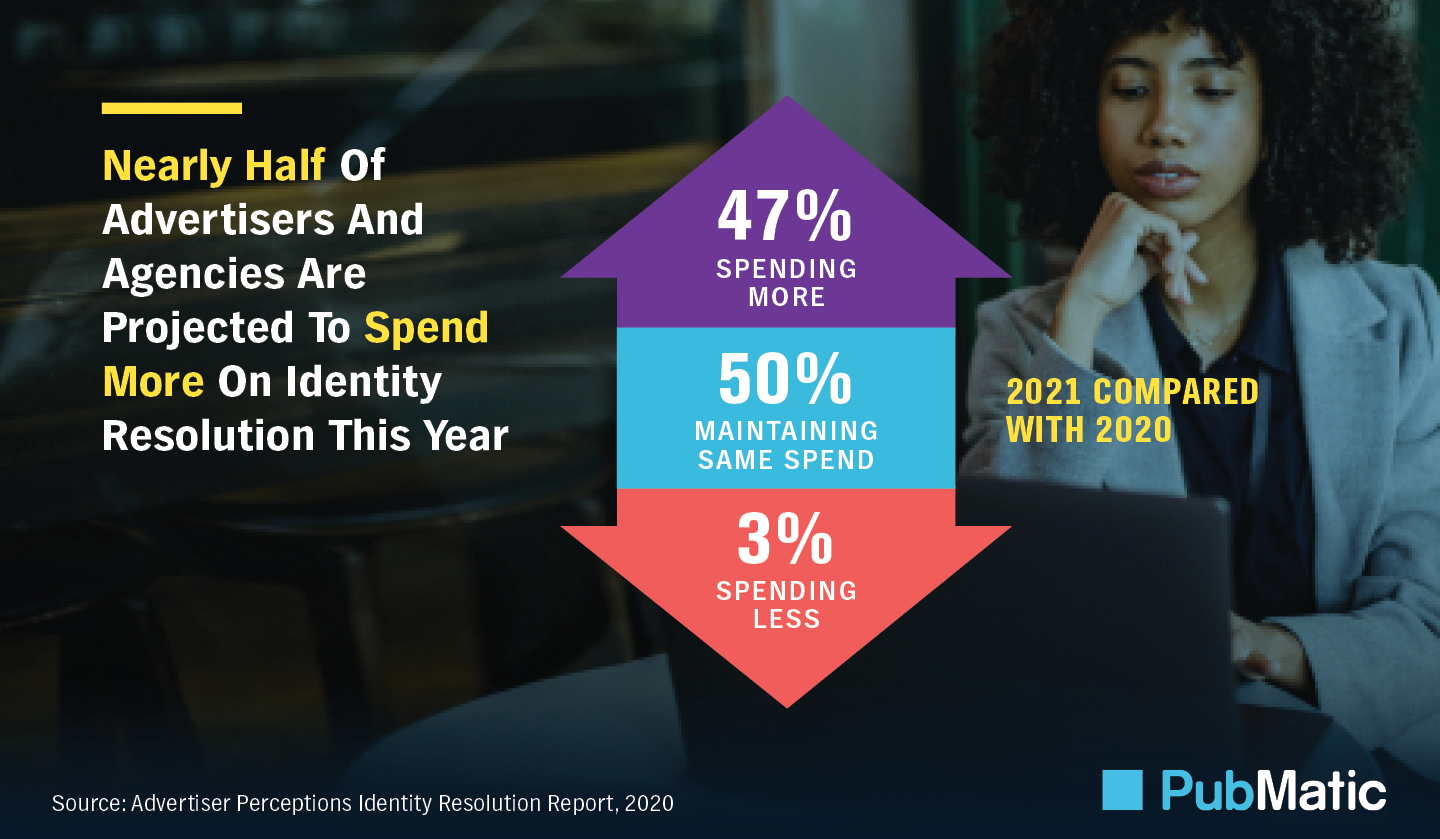 US buyers have expressed urgency in keeping automated advertising transactions as seamless as possible, and many are investing in an identity-based solution now.
According to research:
65 percent of buyers said they are relying more heavily on ID graphs built on first-party data
51 percent are relying more heavily on second-party data built via data co-ops with other agencies and brands
48 percent are relying more heavily on second-party data from publishers
The leading perspective of the ecosystem is that ad tech partners are the ones who can move the needle to help buyers and publisher devise an addressability solution that improves upon the cookie (Fig 3). It's a critical time for buyers to start testing their identity resolution strategies, and for publishers to revisit their monetization roadmap.
Figure 3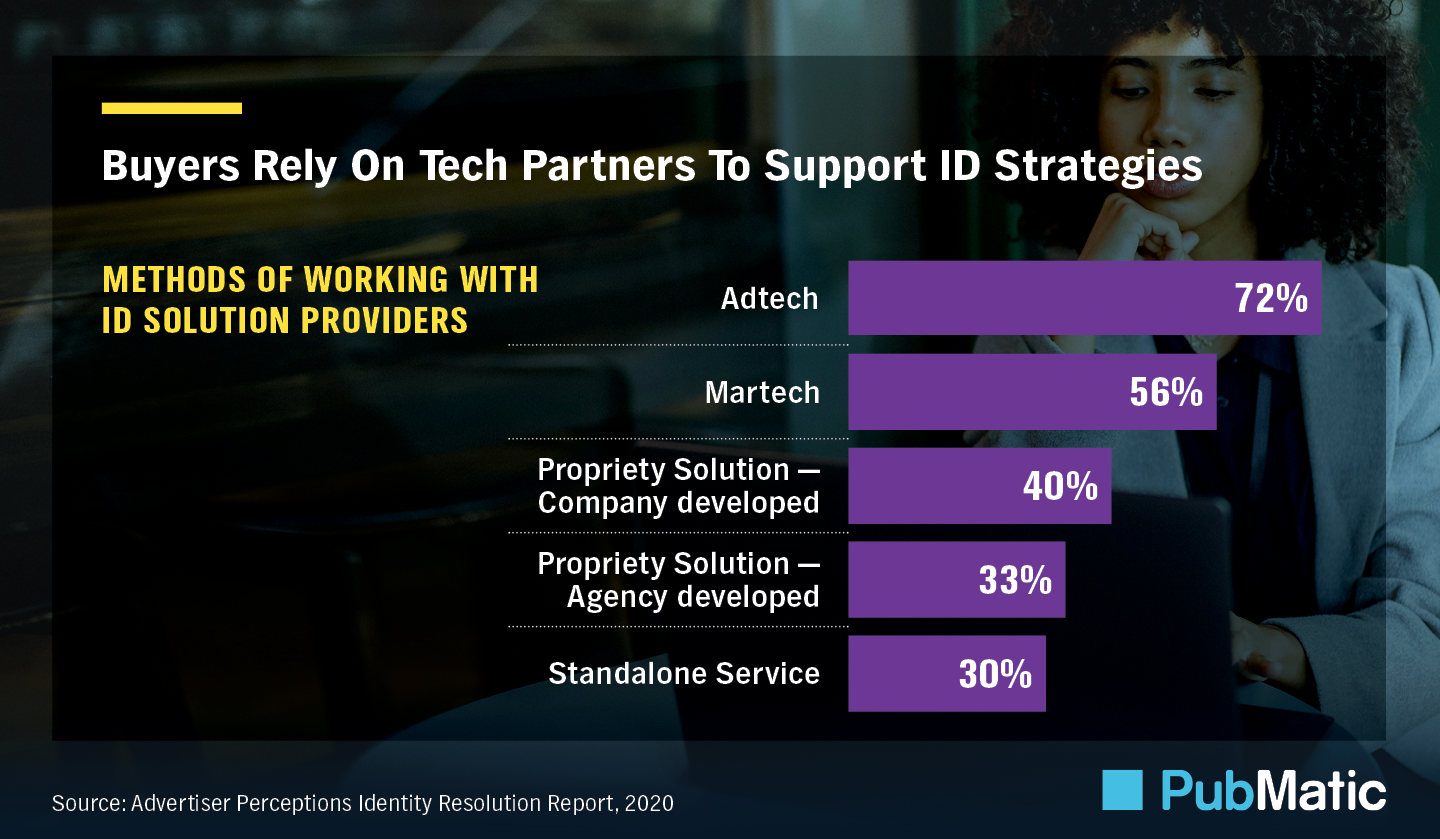 For buyers and publishers who are on the path towards solving for addressability, there are a few key areas to consider while developing identity resolution strategies:
Have cross ID management interoperability. It is unclear which ID will be the preferred replacement, or perhaps multiple IDs will serve a variety of strategic purposes. As the industry evolves into the next era of audience addressability, adopt an identity management solution like PubMatic's Identity Hub that allows better, easier multiple ID control and management.
Know your audience. Publishers should explore how to capture more usable data, by collecting their own and by creating closer relationships with first-party data sources.
Stay adaptable. There is a growing belief that publishers who leverage open-source wrapper technology can more quickly adapt to future disruptions to third-party cookie use.
Look for a performance and insights partner. More than just the technology, both buyers and publishers should consider an identity resolution service partner who can provide insights, be a consultative partner, and is aligned in their company roadmap.
See PubMatic's data infographic on what publishers and marketers are saying about their plans for audience addressability after cookies phase out.