Analyzing terabytes of data behind the billions of impressions flowing daily through our platform, SEVEN, each quarter the PubMatic team identifies real-time developments in mobile advertising. This information, in turn, helps publishers and advertisers unlock the power of programmatic for mobile.
Findings from our Q3 2017 Quarterly Mobile Index (QMI), released today, show programmatic video continued to proliferate outside of the Americas and through mobile devices. Header bidding gained momentum in APAC and EMEA while private marketplaces (PMPs) were increasingly leveraged as a conduit to safe, premium content by advertisers worldwide.
Video Advertising Insights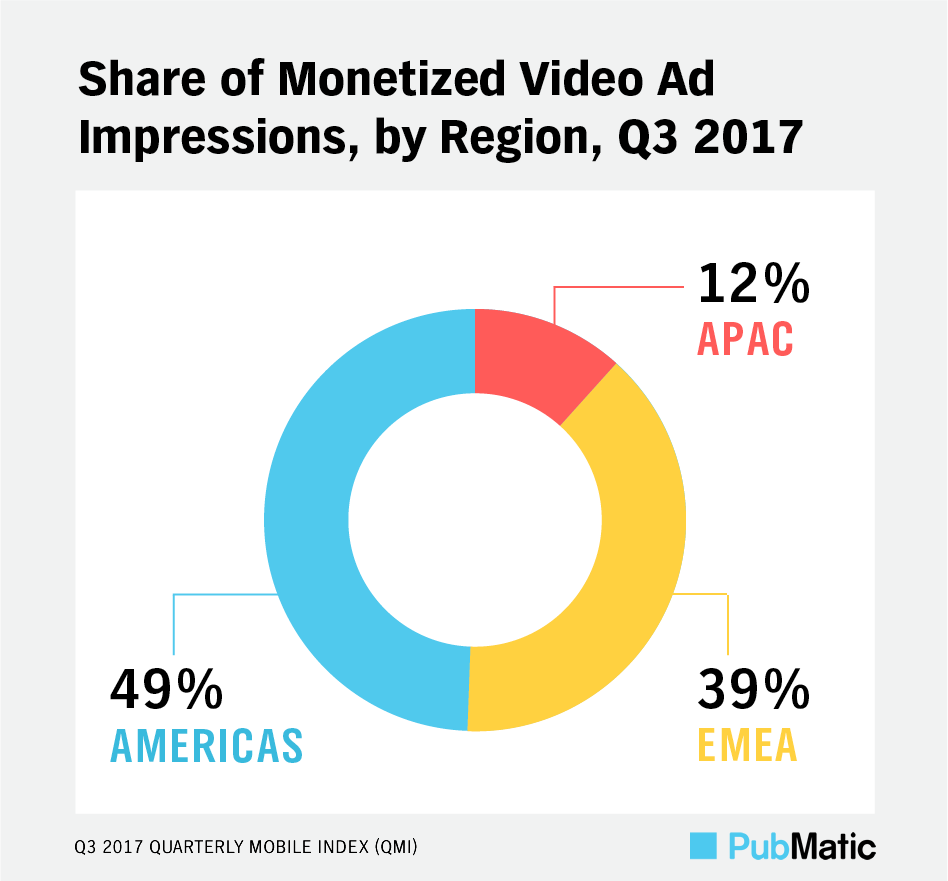 Interest in video advertising persisted as top US publishers reorganized teams to pivot toward the engaging and valued format.1 Beyond the Americas, video advertising spread fast in Q3 as the share of impressions served in EMEA rose 14 percentage points quarter-over-quarter to reach 39% of the worldwide total. APAC's share of monetized video impressions also improved from 3% to 12% between Q2 2017 and Q3 2017.
Video made further inroads into mobile, a trend that follows the increasing preference among consumers to watch video content on handheld devices.2 Nearly one-quarter of monetized video impressions in PubMatic's platform were served on mobile devices in Q3 2017. Crucially for publishers' video strategy, mobile video eCPMs earned an 8% premium over the average eCPMs paid for desktop video impressions during the same quarter.
Rise of Header Bidding
Publishers have been deepening their header bidding expertise, becoming more strategic about its implementation3 and boosting the use of the technology beyond the Americas. Adding to the already significant expansion this year, overall header bidding impression volume rose 220% YOY in Q3 2017, including a 252% YOY lift in mobile web header bidding impressions.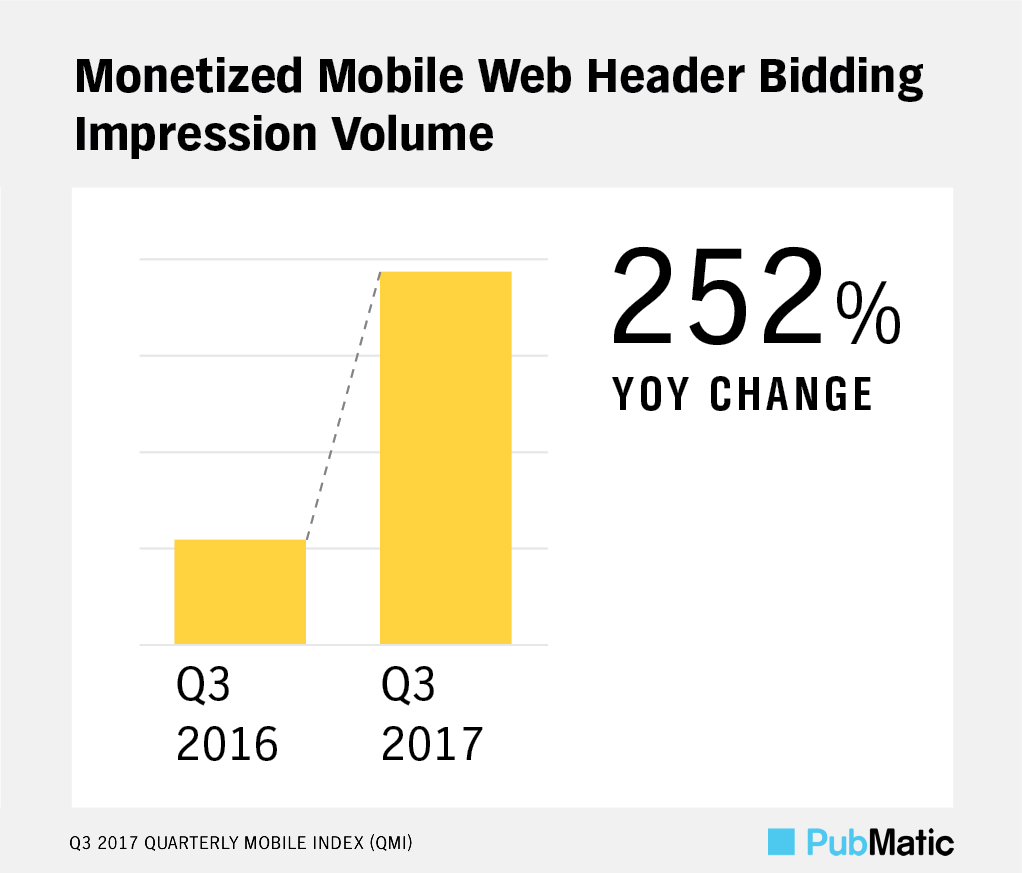 Regionally, APAC and EMEA experienced the fastest mobile web header bidding growth rates and saw their respective worldwide shares of the category lift to 18% and 28% in Q3 2017—each more than 10 percentage points greater than a year earlier. The lion's share of mobile web header bidding impressions was still monetized in the Americas, but the region's portion dropped from 82% to 54% during the same period.
Despite the fast-paced growth of header bidding, advertisers remained largely passive about the technology and its benefits. Only 25% of US agency and marketing professionals assessed their own understanding of header bidding as good or great.4
"It's not abundantly clear that advertisers have yet adapted their strategy with regard to header bidding," said Kyle Dozeman, Vice President of Advertiser Solutions at PubMatic. Lacking familiarity with the tactic, advertisers and their agencies have yet to take advantage of key opportunities—such as more seamless competition with direct insertion orders (IO) within the publisher's ad server.
Private Marketplaces (PMP)
Private marketplaces (PMP) gained attention from the buy-side as a conduit to safe, premium content5 and mobile audiences. Mobile PMP impression volume rose 75% YOY in Q3 2017, making it the seventh annual improvement in as many quarters. Growth was driven partly by programmatic decision-makers in North America shifting resources from open exchanges to PMP to ensure that their ads appear across higher-quality publisher sites.
Interest in safe environments enabling quality advertisers to bid with confidence also exists on the sell-side. Research from Magna Global found publishers who sell their digital inventory programmatically find greater comfort on invite-only auctions and deal-IDs. Thus, increasing inventory availability through PMPs.6
Publishers had an additional incentive with mobile PMP eCPMs earning a 153% premium over the average eCPMs paid for mobile open exchange impressions in Q3 2017. It is worth noting that advertisers are not opposed to paying higher eCPMs, so long as it delivers greater value, especially when it comes to mitigating fraud.
Q3 2017 QMI Infographic
We've summarized key findings from our latest QMI in the infographic below, and you can download the full report here. Be sure to check back in a few months for our Q4 2017 Quarterly Mobile Index or let us know how we can partner with you in the meantime.

[1] "How The New York Times, BuzzFeed and others stack up in video," Digiday, October 2017.
[2] "US Time Spent With Media: eMarketer's Updated Estimates for 2017," eMarketer, October 2017.
[3] "Header Bidding for Ad Buyers – What Brands, Agencies and Buy-Side Platforms Need to Know," eMarketer, October 2017.
[4] "Omnibus Study," Advertiser Perceptions, April 2017.
[5] "Advertisers Want Programmatic Tech Players to Fight Fake News," eMarketer, August 2017.
[6]"Programmatic 2017 – Programmatic Supremacy," Magna Global, October 2017.