64% of all worldwide programmatic ad spending will be on video this year, but how will global publishers approach ad monetization partnership strategies? To answer that question PubMatic commissioned Forrester Consulting to explore their integration tactics and the top monetization challenges they are facing.
Monetizing video inventory requires a different set of strategies from what publishers are accustomed to with traditional display. Persisting gaps in technology and skillsets are driving publishers to seek cross-platform partners who can not only effectively monetize data but provide identity solutions as well as new sources of demand.
Publishers Lean On Header Bidding To Maximize Video Ad Revenue
The study reveals that the value of header bidding for publishers is clear – more than two thirds of publishers found maximized ad revenue as their top benefit. Since publishers are anticipating further header bidding implementation growth in the coming year, technology partners with cross-platform programmatic expertise are best suited for the unique needs of video ad monetization, particularly to address challenges faced on mobile. While client-side integration is the top header bidding tactic across desktop and mobile, open real-time-bidding (RTB) is still the primary programmatic strategy on mobile today – however, it is likely to be surpassed by header bidding in the next 12 months.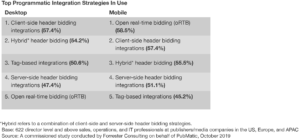 There Is A Need To Upgrade And Upskill To Effectively Leverage Vendor Partnerships
64% of publishers find the lack of technology tools to be their biggest obstacle in managing video monetization, with half having the most issue with channel-specific implementations. When asked about specific challenges to video monetization techniques, data control, reporting/analytics, and technical knowledge are at the top of the list.
The ability to find the right tools and technology remains a challenge for many publishers. However, the solution requires addressing the most challenging task first: leveraging the right technology (including tools and cross-platform partners) for successful video monetization.

Ensuring That Partners Are Aligned To Your Company map Is The Key To Video Monetization Success
Publishers require a well-rounded partner so they can better optimize and understand their placements. Successful partners will provide the teams, tools, and tech to help publishers capture the audience and yield ad revenue benefits across all addressable digital video content: desktop, mobile web, mobile app, OTT, and CTV. In addition to cross-platform video header bidding, publishers seek vendors who focus on audience-based solutions, seamless platform usability and effective reporting to best capture the growing video ad revenue opportunity.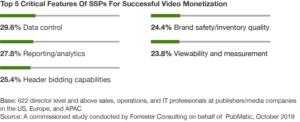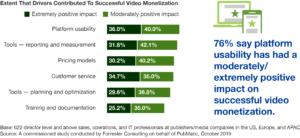 For more information and strategic recommendations from Forrester Research, download complete study. To learn how PubMatic can help you with your video monetization needs, head over to our contact page.