Today, we launched our third annual Diversity & Inclusion report, highlighting our diversity "results" from the first half of 2019. As we do every year, we have made a concerted effort to nurture our diversity, improve our inclusion, and invest more in our talent pool. However, this year, as a result of our ongoing efforts, illustrates the success we have had in both hiring and developing diverse talent with the increase of women in leadership and improved diversity in our 13 offices, across the globe.
In a dynamic and ever-evolving industry, such as ad tech, it is imperative, from a business perspective that we successfully invest in increasing our diversity and building a more inclusive environment.
Why Focus on Diversity & Inclusion?
The basis of developing, and nurturing, diversity and inclusion in the workplace has proven benefits. McKinsey & Company, for instance, found that companies with a more diverse leadership team actually bring in more revenue and return-on-equity. A Cloverpop study found that diverse teams, compared to individuals, made better business decisions 87 percent of the time. While there are a number of types of diversity, including cognitive diversity, the inclusion of many perspectives has been shown to result in more innovative solutions, quicker.
At PubMatic, we believe a diversity of ideas and expertise allows us to provide our clients with creative solutions and innovative technology. Investing in the diversity, and inclusion, of our workforce will lead to the long-term success of our workforce, as individuals, and for our overall organization.
PubMatic's Employee Growth & Results
Women currently make up 24.3 percent of our global workforce; representation of women increased about 1 percent globally with the most notable improvements in senior management and technical teams. Further, our hiring of women rose to almost 30 percent globally and our new hire rate of under-represented minorities (URMs) exceeds their representation of PubMatic's entire US workforce. Additionally, nearly 21 percent of our US promotions have gone to URMs.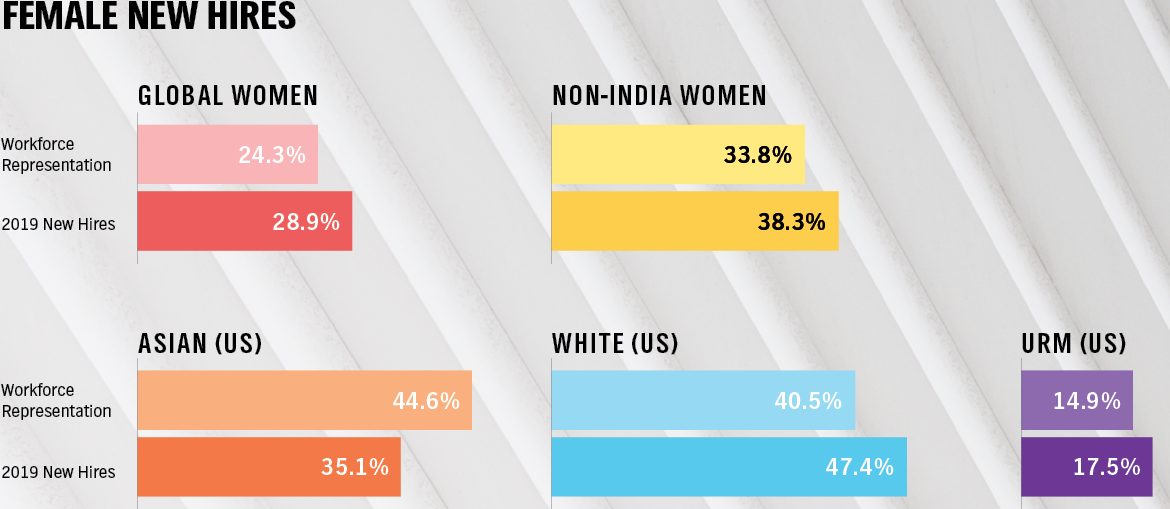 While we are encouraged by this growth, we know that there are still many opportunities for PubMatic to attract, and retain, a diverse workforce. For the remainder of this year, and into 2020, we plan to increase our numbers by investing in programs that foster inclusion and create pathways to leadership positions.
Our New Initiatives to Invest & Retain Talent
We commit to employee growth through customized learning opportunities and providing real-world business experience. This not only allows employees to gain new skill sets, but gives them the opportunity to learn in a supportive environment. Some of our recent programs have included:
Individualized Learning Plans: In an effort to ensure employees have a clear and well-defined career path, we have created Career Maps to identify technical, domain and soft-skills required for their next desired role at PubMatic so they can take ownership of their desired future roles.
Inclusive Culture Workshops: The immersive sessions helped employees identify and challenge their unconscious bias, understand the impact of micro-behaviors and help senior managers develop their own inclusive leadership style.
Knowledge Sharing Sessions: These trainings empower employees to share their knowledge on a variety of topics in technology, like Linux and Java, as well as company-specific sessions on legal and accounting.
Joy in the Journey: Our in-house women's leadership program features PubMatic's female leaders sharing their lessons and career insights. The goal of these candid conversations is to provide informal mentoring by allowing all of our employees to get to know our female leaders in a more meaningful and personal way.
In addition, we believe promotions should be considered year-round which helps to keep our employees engaged and productive. In the last 18 months, we've created 159 promotion opportunities where employees have had the opportunity to challenge themselves and move into lateral or more senior roles. As we've invested in employee growth, we've seen our greatest retention rate, 93%, through June 2019.
What's Next?
The continued success of PubMatic requires that we succeed at being diverse. The means recognizing the value of our people by ensuring every employee's strengths, abilities, interests and perspectives are understood and supported. It is our goal that we create a company culture where employees can thrive and grow. To learn more about our initiatives, and our latest results, download the full report and check out our open positions on our careers page.