We're excited to announce that for the third year in a row, PubMatic US has been certified as a Great Place to Work by independent analysts at Great Place to Work ®! This certification, in addition to our existing programs, reflect PubMatic's investment in a positive company culture and empowering our employees. Investing in our workforce translates into a more positive experience for our partners as we work with the best in the industry to provide the best quality products and service.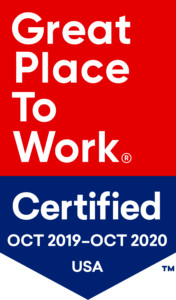 What Goes into Certification?
Our status was recertified based on a "Culture Brief," submitted by PubMatic's Human Resources, and the results from an anonymous employee survey.  We provided information on our employee demographics and how we have gone above and beyond to care for our employees and community.
Over 100 US employees also completed a survey that asked questions regarding their experience working at PubMatic.  Employees were asked to either agree or disagree with statements focused on the themes of respect, camaraderie, pride, fairness and credibility. Some of the statements included, "I feel I make a difference here," "I'm offered training or development to further myself professionally" and "Management is approachable and easy to talk with."
More than 90 percent of our employees feel that the following contribute to the positive employee experience at PubMatic. Here are some of the response rates, indicating they agree PubMatic provides the following elements:
Great challenges – 92%
Great camaraderie – 93%
Great responsibility – 90%
Great atmosphere – 96%
Great pride – 95%
Based on the overall response, we were identified as an organization that respects employees individuality, treating them fairly while celebrating camaraderie. PubMatic is also proud to work and continue to develop managers and leaders who are credible, transparent and approachable.

What Makes PubMatic a Great Place to Work?
Our work in the ad tech space is challenging but at PubMatic, we provide opportunities for employees to grow in their career. Employees opportunities to challenge themselves are endless, from the annual hackathon, pitch competition and the never-dull costume contests, we find any moment to grow and learn. Our recently launched "Leadership Essentials Learning Program" will give participants the chance to learn about eight core management competencies through a combination of online coursework and workshops facilities by PubMatic mentors. Our great bosses don't happen by accident and we continuously support the development of great people managers with regular leadership training and employee feedback.
As a company that recognizes the importance of transparent communication, we make it a point to host regular town halls, "All Hands," leadership and managers meetings. We also take pride in celebrating every employee's birthday with monthly celebrations, honoring work anniversaries, recognizing colleagues for hard work, as well as hosting monthly social events in -and out-of-the-office.
What are Future Areas of Focus?
Areas that will continue to be an area of focus are ensuring employees feel they are being treated fairly and looking for ways to enhance our employee programs and benefits. We will continue to be transparent, sharing the short and long-term goals of the organization at every quarterly meeting, and celebrating our successes and milestones along the way.
We want to thank all of our employees who took the time to respond to the survey. You can view the full US profile here, where you'll find photos of our team and information on why PubMatic is a great place to work. You can also view open positions so you can join our team too. We look forward to another year of investing in our workplace and culture, together!