Google's recent announcement of a delay for the deprecation of third-party cookies on Chrome threw the ad tech world for a loop, even as many advertisers and publishers breathed a sigh of relief. However, Google's whims should not pause our industry's work to find new and better ways to deliver relevant advertising to consumers.
PubMatic has certainly not slowed down, and in partnership with Digiday, we have been exploring priorities and challenges for the ecosystem around addressability. We recently released The Media Buyer's Guide to Audience Addressability, which surveyed 130 brand and agency-side buyers (26% and 74% of respondents, respectively) to provide some measure of what's at stake and a path forward. From our study, it's clear that a lot of marketers are eager to test, and the Media Buyer's Guide digs into what buyers are considering, and prioritizing, as they test alternative addressability approaches.
Let's take a look at some of the key findings from the report.
When it comes to testing, buyers are focused on the growth of first-party data (68% respondents focused here) as well as contextual (53%). But they know that the path forward will not be one-size-fits-all, and are actively exploring many approaches. Interestingly, 47% said zero-party data is the third most popular tactic among buyers.
Zero-party data is that which a customer intentionally and proactively shares with a brand, typically connected to explicit consent, whereas first-party data is the information companies collect from their own sources, which includes behavioral data across websites and apps, CRM data and data from subscription-based emails.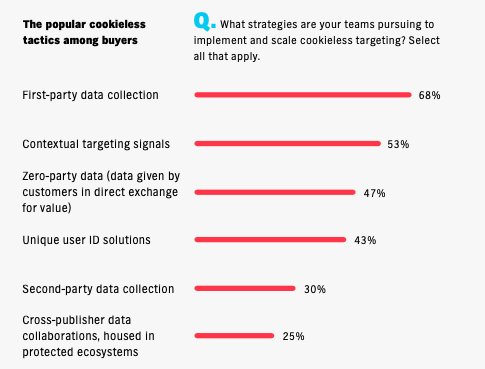 Contextual is certainly having a resurgence across the industry. First of all, contextual targeting is familiar: it's tried and tested and comes with built-in advertiser, industry, and even consumer trust. By nature, contextual is privacy-forward, as it's based on the context of the page and not the individual. It can also be flexible in that it can align or not align with any given content which is good for branding or brand safety.
While contextual targeting can be an important part of a buyer's plan moving forward, many respondents felt that the most effective alternative ID resolution tactic will be first-party data.
Interestingly, zero-party data is both a focus and a huge challenge for buyers. Since zero-party data could be an email address tied to explicit consent, it makes sense that this is one of the biggest focal points: that data is incredibly valuable. However, it can be difficult to obtain, unless there is a very clear and worthwhile value exchange. Additionally, zero party data will have limited scale.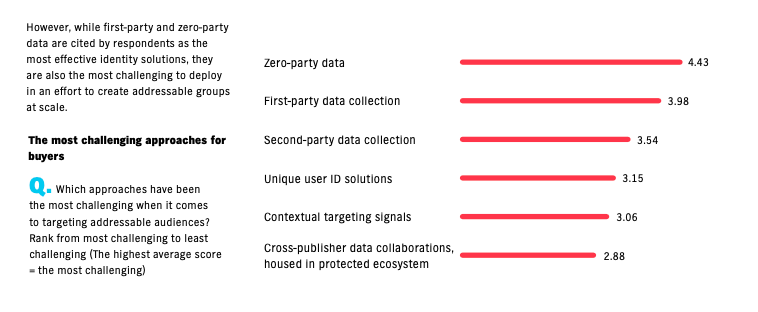 Finally, buyers are listening to a few key signals to help guide them forward. They are looking to trade groups like the IAB, as many in the industry are, to create the frameworks and technical specs necessary for standardized addressability. Many buyers rely on their demand side platforms (DSPs) to help educate them on what to do, as well as their peers in the industry.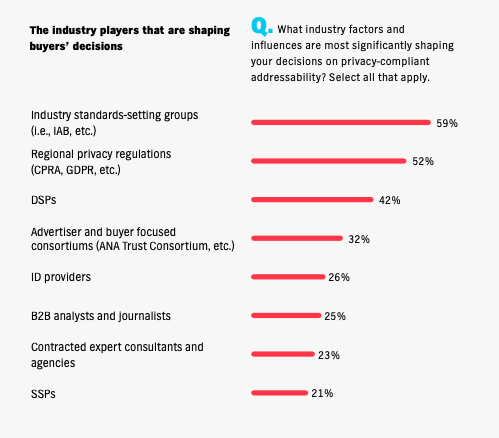 As the research by Digiday shows, buyers believe the path to the addressable future will be challenging. Luckily, partners like PubMatic are committed to helping prepare brands, agencies and publishers for a cookieless future.
PubMatic is at the forefront of bringing addressability to the digital advertising ecosystem to ensure that publishers can continue to drive revenue, and advertisers can likewise drive ROI. We know there will not be a one-size-fits-all path forward, which is why we recommend leveraging a portfolio approach through PubMatic's Addressability Suite.
Learn more about PubMatic's addressability solutions here and get prepared for the cookieless future.