A version of this content appeared in Advertising Week.
The retail landscape is undergoing a wholesale transformation, prompting retailers to adjust their strategies to stay competitive. Evolving customer demands, the need for new revenue streams, and the diminishing value of third-party cookies have prompted retailers to turn their attention to commerce media as a key revenue generator moving forward.
With an estimated $126 billion in ad spend going into retail media this year, the opportunity is tremendous. However, not every retailer is finding the success they'd hoped. So what is it, then, that's setting the winners apart from the rest?
In August 2023, PubMatic commissioned Forrester Consulting to explore the current state of commerce media, including the distinguishing characteristics of the most successful commerce media networks. Let's dig deeper into what the research revealed.
Key Challenges in Commerce Media
The Forrester study confirmed something we all know to be true: Commerce media is growing—fast. The survey found that commerce media's contribution to retailers' businesses has nearly doubled in a two-year span, and retailers hope to double it again over the next year.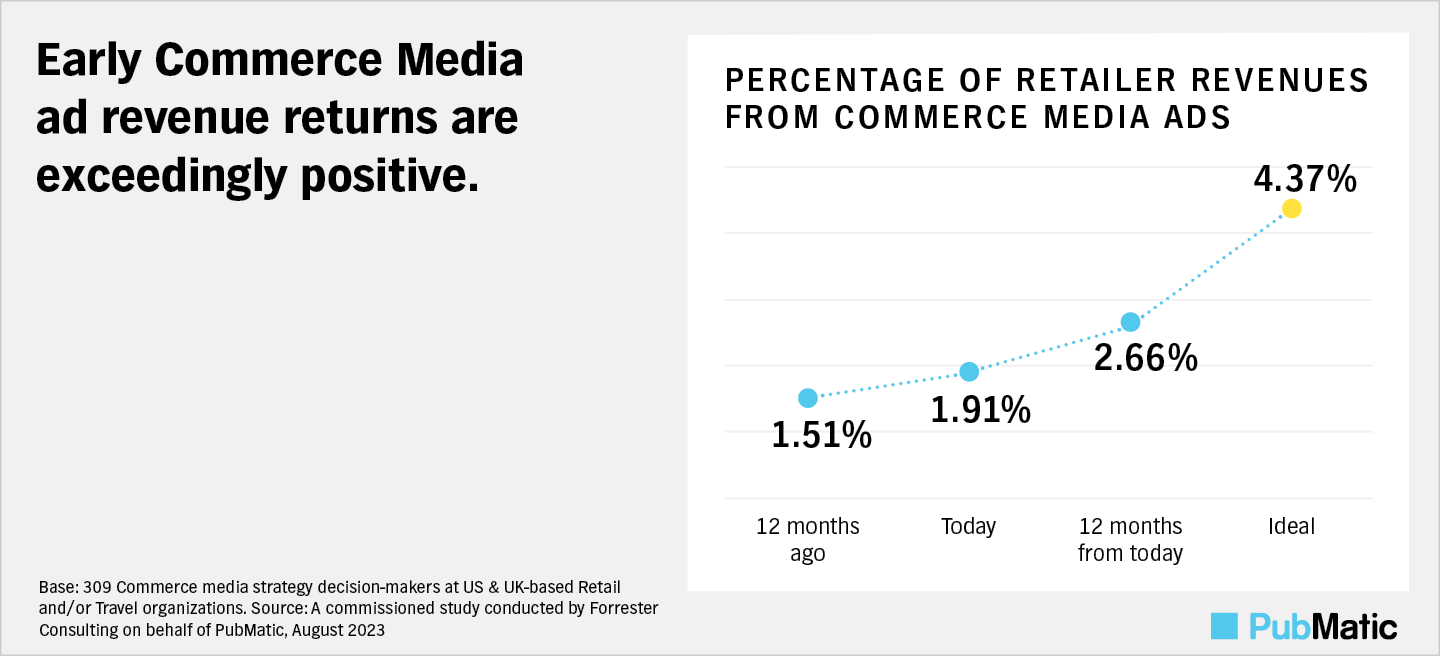 Early returns are exceedingly positive, and 95 percent of retailers who have adopted commerce media say their programs are exceeding or meeting ROI expectations. However, there are still varying levels of success and significant barriers to overcome. Many retailers still are struggling with considerable challenges across technology, processes and logistics.
The differences between high-success retailers and low-success retailers tell an interesting story about where commerce media is headed in the future, and what it takes to succeed. In general, high-success retailers are more focused on improving relationships with suppliers and consumers and monetizing first-party data, whereas low-success organizations are more focused on finding revenue streams or are just piloting commerce media. In addition, high-success and low-success retailers varied in notable ways when it came to their relationships with technology providers.
Technology Partnerships as a Differentiator
Knowledge and strategy are key to success in commerce media, and the most consistent challenge facing retailers is a lack of internal expertise to deploy their commerce media programs strategically. Going forward, organizations are turning to their technology partners to fill in knowledge and expertise gaps.
According to our research, high-success retailers are considerably more effective in three core areas of commerce media strategy:
Securing the necessary resources and partners to scale
Their ability to prove ROI
Their ability to balance monetization with customer experience
Overall, retailers reported that the incumbent technology they're using for their commerce media networks—often a combination of point solutions and repurposed tech—is falling short of their needs. Going forward, 49 percent say they're planning to switch technology partners.
Selecting the right technology partner, and taking advantage of that partner's strategic support, plays an enormous role in success. The Forrester study found that low-success organizations are nearly twice as likely to lack sufficient support from their technology partners than high-success retailers.
In terms of technology partner capabilities, retailers say that data privacy is top of mind for them, as are unified auction solutions, flexibility, customization, and scalability. In fact:
86 percent say their organization needs a unified auction solution across its properties to drive monetization and acquisition across multiple tactics and data sets.
82 percent say their organization needs a flexible yet custom commerce media network solution that provides a seamless CX to drive multiple tactics in one place.
81 percent say their organization would like a tool to enable advertisers to buy across retailers because the retailer is too small to scale on its own.
Going forward, sophisticated measurement will be key to commerce media growth. Retailers must have the ability to provide true incrementality metrics to brands and advertisers. At the same time, offsite inventory represents a promising commerce media frontier, given the scale challenges reported by many retailers. As third-party cookies disappear, large commerce players are well-positioned to serve relevant ads; offsite and in-store ads are much larger advertising opportunities than current onsite solutions.
Meanwhile, small commerce media networks seeking success should look to aggregate and form a supply-side cooperative. Most commerce companies are not large enough to warrant operating like a walled garden; by joining a larger network and sharing relevant insights, they can supercharge their offerings without losing their competitive edge or sacrificing consumer privacy.
The right technology partnerships can help retailers achieve the scale, accountability, and—importantly—agility needed to compete in the fast-growing commerce media landscape. After all, success in commerce media is not a destination but an ongoing journey, and those that stay attuned to the ever-shifting landscape will find themselves best positioned to thrive in this dynamic space.