The vast majority (83%) of retailers say that commerce media networks will play a fundamental role in their future strategies. This will come as no surprise to anyone who has monitored the trade press in the last year or so.
This new stat comes from a recent commissioned study from Forrester Consulting, which asked retailers about the status of their commerce media programs, where they are headed, and the challenges they face.
Commerce media is evolving quickly
According to the report, 87% of retailers say they need high-margin income from advertising to support their businesses. 87% also say the first-party data they collect is more valuable now than ever before. Meanwhile, 86% say customers want more personalized experiences.
Each of these elements helps to explain the increased demand for commerce media in the last year. As a result, retailers say nearly 2% of their overall revenue comes from commerce media today with hopes this will more than double to reach 4.37% in the future.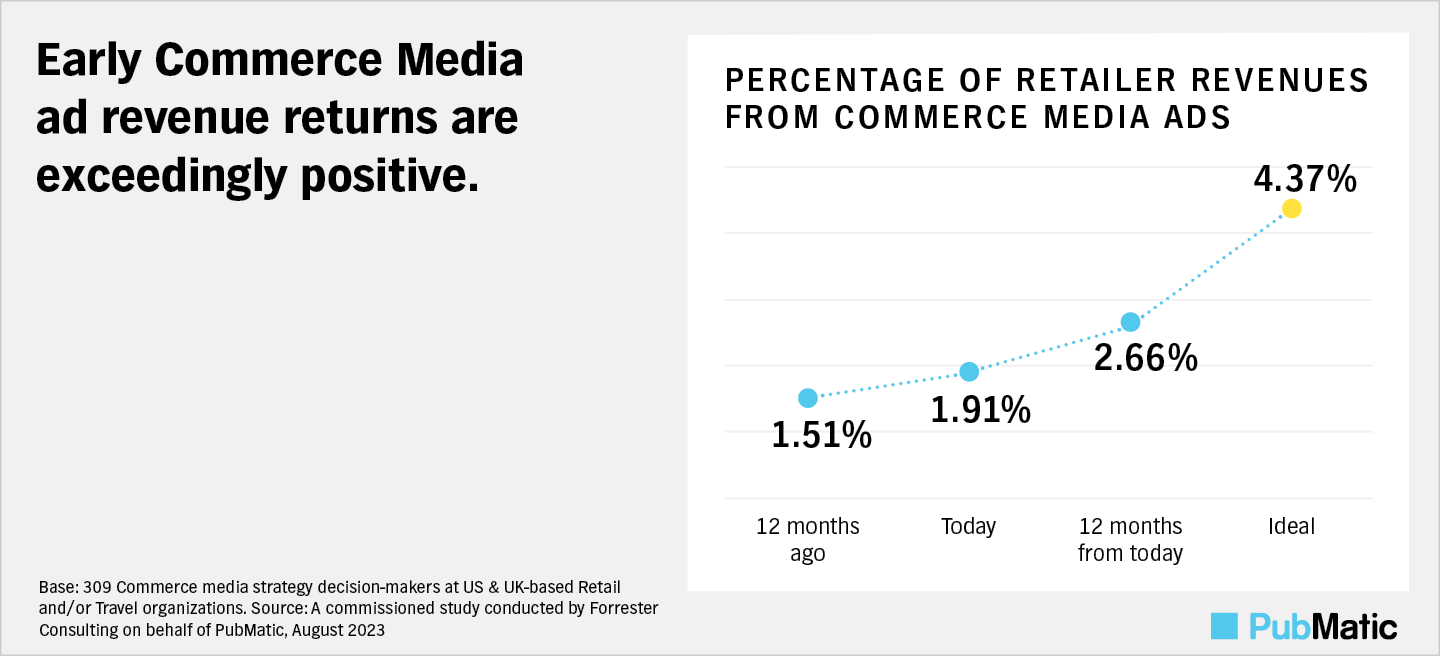 Commerce media offers distinct benefits
Retailers cite a multitude of benefits of commerce media: increased revenue, the ability to diversify revenue streams, the growth of e-commerce traffic, a better customer experience through more relevant ads, the ability to improve relationships with brands, and the use of brand dollars to reduce the cost of marketing and sales efforts.
Commerce media ROI is (mostly) positive
While the ROI for commerce media has been mostly positive, retailers have had varying degrees of success, with more being gained through long-range strategic thinking versus short-term revenue gain motivations. Generally speaking, the more successful retailers are focused on deepening relationships with technology providers and customers, as well as on monetizing first-party data. Less-successful retailers are focused primarily on revenue stream potential or are in the early stages of piloting their strategies.
Commerce media still presents challenges
Nevertheless, as retailers build out their commerce media programs, they still face some big hurdles. That includes making commerce media more programmatic and transparent to meet advertiser demands, as well as reducing friction with said advertisers. This is in part because retailers say they lack the resources and expertise they need to drive effective outcomes.
For more insights, please see the full study here.