With consumers watching more streaming and OTT video content than ever before, last week's PubAcademy was particularly timely. Entitled, "Connection Where It Counts: The Evolution of TV," the session featured Tom Sly from E.W. Scripps Company, Youssef Ben Youssef from Roku, Jia Zhou from Essence Global, Robby Barnett from Adelphic and Randall Rothenberg from the IAB.
TV is at a crossroads. Populations around the globe were sheltered in place during most of Q2 and a lot of them increased their connected TV viewing. Nielsen noted in early June that these habits are likely here to stay, with streaming and connected TV viewing staying at elevated levels. Our PubAcademy experts went deep into this market shift and looked at what factors are at play as buyers and sellers react to changing consumer habits and new technology innovations.
Host Jaan Janes, VP of Customer Success at PubMatic, said, "We want to not only preserve the value of inventory, we want to increase it." And that is what the conversion was about. As TV evolves, how can the market make sure that it doesn't create a "race to the bottom," with a focus on low prices across cheap inventory?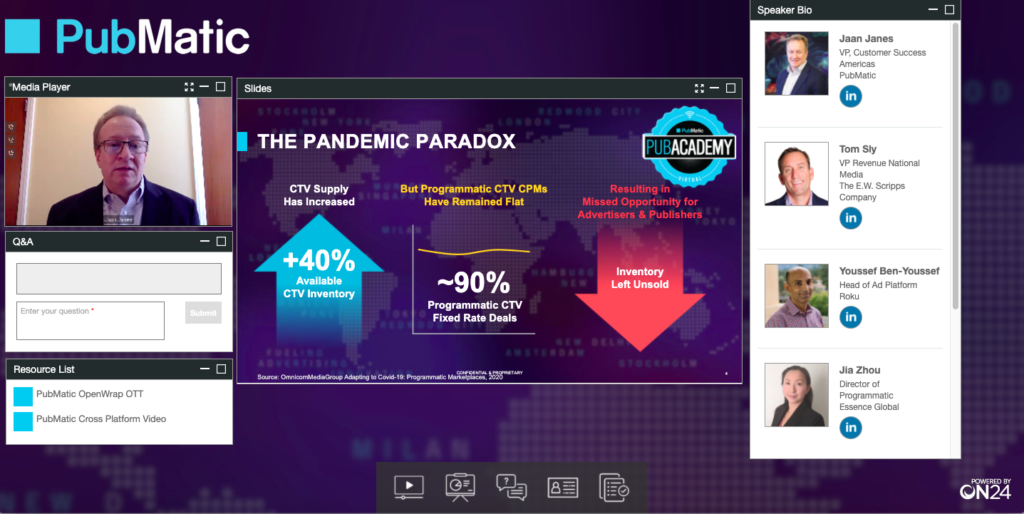 The panelists dove deep to explore the key factors that will shape the future of TV across the new digital channels, namely: content, viewership, and technology.
With regard to content, the experts noted that brands want to understand more about the differences in content consumption on OTT versus other devices and channels. Advertisers want to know what people are watching and how they can advertise against that content in a way that either matches or improves upon their linear TV strategies.
The group did not view OTT content itself as a mirror of linear TV. People binge watch, rewatch old favorites and watch new formats like short form and even social media videos. Even large traditional publishers are still learning what content works. For example, Tom Sly noted that publishers are still figuring out what people respond to. Scripps has a variety of news, lifestyle and dramatic content and is working on determining the best mix based on audience responses. From the discussion it was clear that brands and publishers will need to be agile to engage audiences as they evolve in their tastes and viewing habits.
Audiences, too, are still shifting — and very quickly. "Whatever we forecast to happen in 10 years actually happened in 10 weeks," said Youssef Ben Youssef, head of ad platforms at Roku. The company connects with millions of viewers across thousands of channels and noted that in a recent survey, many who are watching have said they just want to unwind and be entertained. Yet, this is happening at a time when consumers are also watching a record amount of news content. Audiences are not in their normal work, life or lifestyle patterns, and are at home more than usual, making it critical to remain in tune with audience behavior and viewing preferences.
Robby Barnett, of advertising technology provider Adelphic, noted that nearly 90% of all OTT viewing is consolidated within only 10 apps, and so it's critical that buyers focus on elements like measurement, spending tactics and transparency. He talked about how programmatic technology for OTT is evolving, citing PubMatic's recent launch of OpenWrap OTT, to provide buyers with access to quality OTT inventory using Prebid server open source technology to ensure transparency and control. OpenWrap OTT also preserves a TV-like viewing experience, which matters significantly to brand buyers looking for TV-like opportunities.
For example, Jia Zhou, from Essence, said that there is a big push for consolidated buying strategies across all video. Viewers are moving across different video channels, and advertisers need to follow them. This requires more nimble buying strategies to move money quickly, audience insights to understand viewing habits on the whole and tactics like dynamic pricing and frequency capping to manage budgets effectively across channels and buys. The agency advises their brand clients to understand the difference in audiences — with OTT viewers tending to be younger and wealthier.
Randall Rothenberg, of the IAB, said that this year, more than 13,000 people registered for the New Fronts – the digital Upfronts (as opposed to only 1,200 last year), showcasing the surging interest and momentum around advanced TV. However, he noted that only 12% of ad spend is going to connected TV despite viewer growth. This is a typical pattern: consumers adopt a new channel (desktop, mobile, OTT) and then technology is developed to make it easier for advertisers to follow. Now is the time for technology innovation in connected TV as well as a time to create standards for the ecosystem to thrive. Rothenberg urged all players to get involved as standards are set and rules are drawn. This will ensure a quality, transparent ecosystem where buyers and sellers can transact effectively while being sure to deliver premium experiences for viewers.