With over 13 trillion advertiser bids flowing through our platform each month, the PubMatic team can identify leading and real-time trends that link to broader digital market developments. We analyse this data to anticipate market changes, and help advertisers and publishers unleash the power of programmatic within the mobile channel. These trends are reported in our Quarterly Mobile Index (QMI), which highlights the key drivers to mobile ad monetisation.
The Q3 2019 QMI shines the spotlight on the top countries driving mobile ad spending, mobile video ads' rise to market dominance, and header bidding's expansion to mobile in-app.
Mobile video expected to outpace desktop
Globally, overall mobile ad volume increased 23 percent over last quarter, and mobile video ad volume rose 31 percent over the same period. The mobile share of video ad volume is growing moderately but consistently. Therefore, we can expect mobile to overtake desktop by early 2020.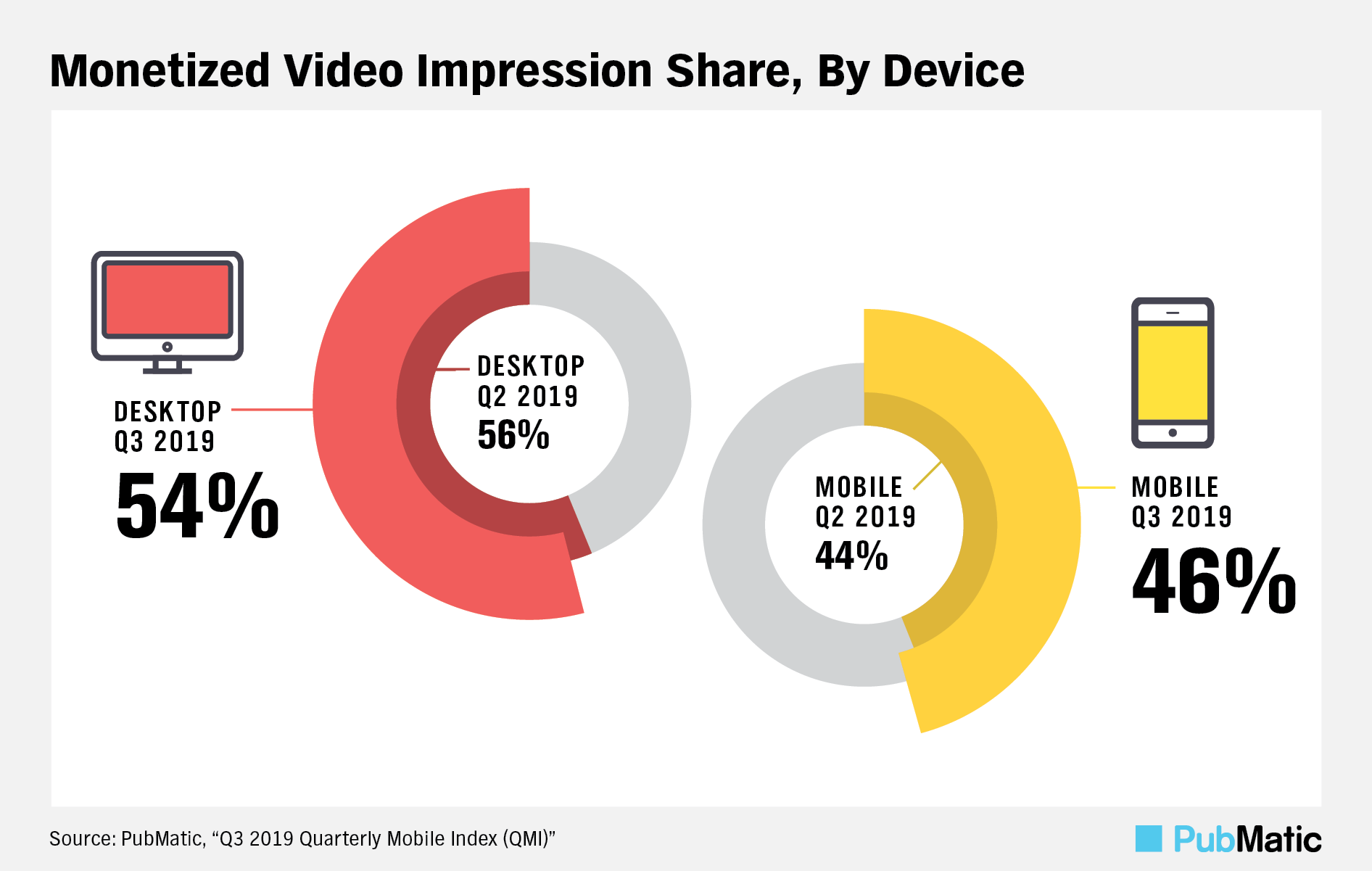 Mobile header bidding is now standard practice
Header bidding has reshaped programmatic advertising worldwide. While it is popular with desktop and mobile web ads, it did not gain momentum in-app until recently. Thanks to industry initiatives like app-ads.txt to eliminate fraud and the high pace of mobile development, header bidding is finally expanding into the app environment.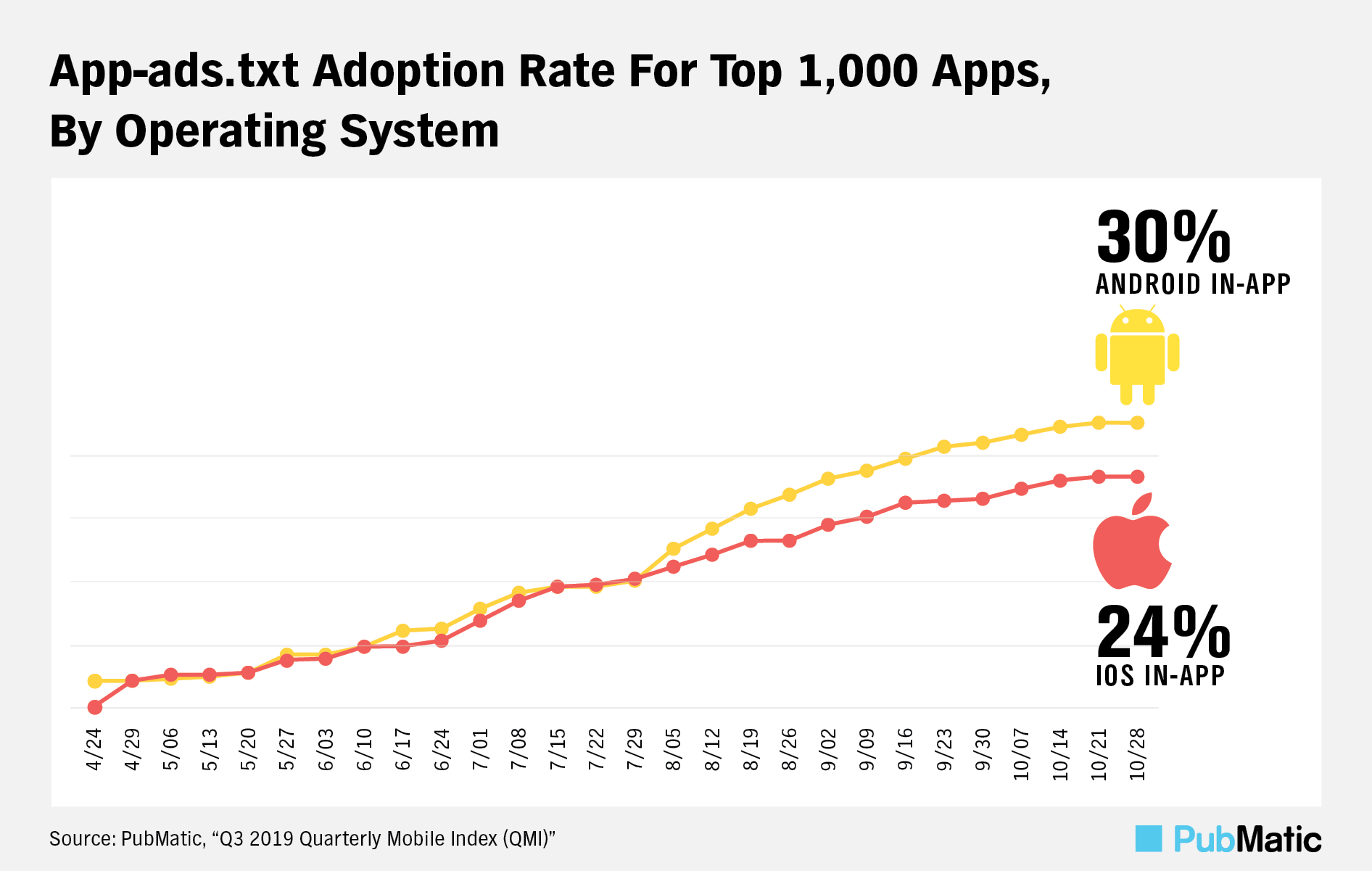 Mobile's continued growth is most definitely spurred by its symbiotic relationship with video and our research is aligned with industry trends, calling for continued expansion over the next 18 months. Video ads create incremental value to publisher revenues, and mobile is the preferred platform for consumption. Ensuring a strong mobile video monetisation partner requires a holistic look at capabilities across reporting, quality tools, unique demand, and having the integration flexibility that fits in the short and long-term goals.
Download the full Q3 2019 QMI report here. Stay tuned for our Q4 QMI report in a few months. In the meantime, check out our mobile solutions or reach out to discuss how we can partner with you.
QMI Methodology
PubMatic's yield and data analytics team analyzes over 13 trillion advertiser bids on a monthly basis, utilizing the company's best-in-class analytics capabilities. The Q3 2019 QMI incorporates impressions, revenue and eCPM data from these reports to provide a high-level analysis of key trends within the mobile advertising industry. Data is from the third quarter of 2019 (i.e. 1 July 2019 to 30 September 2019), as well as the corresponding prior year periods. Analysis is based on PubMatic-sourced data except as noted. Percentages in some figures may not sum to 100 percent due to rounding. "Monetized impressions" or "paid impressions" are defined as impressions that were sold through the PubMatic platform, and "eCPM" is defined as the cost per one thousand impressions.
Originally published in MobileMarketing