As user experience (UX) designers, it's our job to know our clients and their needs. Our primary focus is to help deliver the best experience for publishers to maximize yield, however, in order to do so we also need to help buyers meet their goals.
To ensure the best experience for both parties, our design process at PubMatic encompasses an agile and iterative approach with constant feedback and communication with our users.

For each new feature the PubMatic team pushes out, we research and define the problem, design and test solutions, validate the problem and solution with users, build and run through quality assurance, and then measure success with data. However, we don't stop there. We are constantly improving our products to cater to new needs or problems and refining the solution. Our goal is for our clients and partners to exceed their goals and have a smile on their face while using our products.
Over the past year, we have done a number of updates to improve our PMP solutions to allow better access to quality inventory, at scale. As we are constantly looking to make updates to improve client experiences, we recently dug into pain points and produced product improvements to address them.
Defining the Problem
In conversations with buyers we found there are a few challenges they face in the PMP space, in particular:
The manual process of finding inventory
Negotiating per publisher is time consuming
Lack of scale
Need for more intuitive method to discover audiences
Planning the success of a campaign is challenging
Today, I will discuss how we have addressed the first three challenges with a follow-up post on the latter two.
Solving for Challenges 1 + 2 + 3: Increasing Efficiency During Inventory Discovery
Two contributing issues lead to the first concern of a very manual process of inventory discovery: One, buyers often don't know which publishers have their desired inventory; two, buyers don't have the bandwidth to negotiate custom deals for each campaign. To help address these concerns, we brainstormed how to give the user more control.
My team designed several iterations and landed on a self-serve prototype that allows buyers to create deals targeting all, or a select number of publishers, in one deal including targeting parameters. We tested this with our internal ad solutions team and several external buyers. As a result, we learned that a couple of buyers would rather use an API because there were too many UIs they had to log into. Other buyers were eager to use the product. We collaborated with those buyers to identify a set of features that would be useful when creating a deal.
We also spoke with our publishers to learn how they preferred to hear from buyers so we could simplify inventory discovery. Our publishers were keen on the idea of making it less manual because ultimately if their inventory is more discoverable, they increase yield. We built in the ability for them to opt-in and, of course, the ability to set a block-list for ad quality.
The below image shows our first phase iteration, where we address the basic need for buyers to create a deal. They can upload a curated publisher list or select specific publishers from a dropdown menu.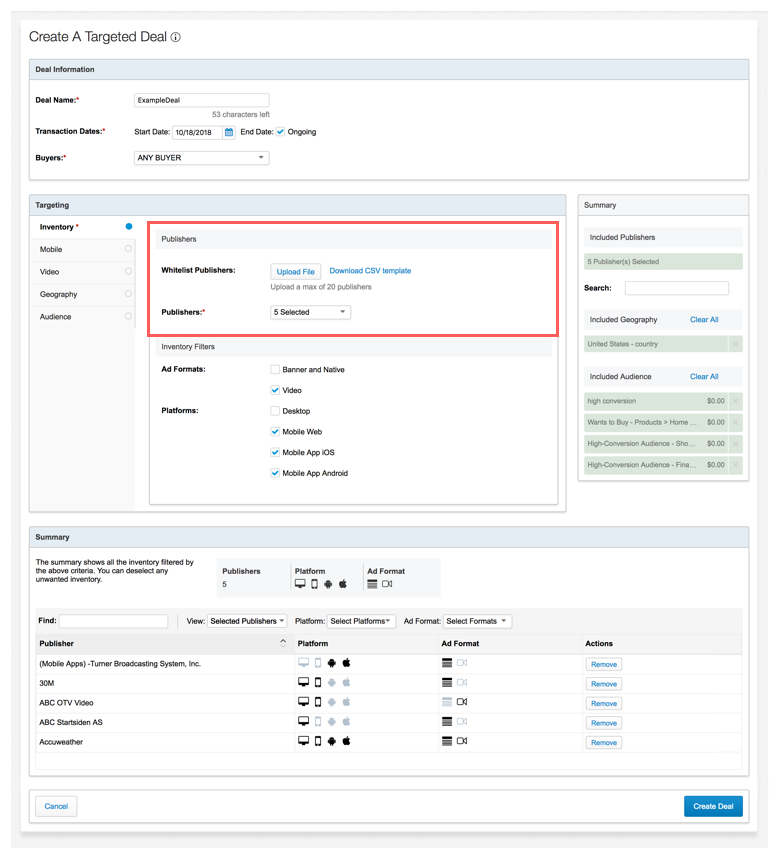 One main piece of feedback we received from user testing was they appreciated the ease of use and minimal steps it took to create a deal. Buyers could create a deal in three clicks by naming the deal, selecting all or specific publishers, and adding targeting. We also received several additional feature requests—to add domain level data, viewability, detailed reports, etc.—and we plan on implementing those in a future phase.
As part of our design process, we also measured the success of our products using Google Analytics and Marvel. We are currently tracking the number of deals created, time to create a deal, how many deals add targeting, along with several other more specific metrics. So far, we have gotten great input on how easy it is to create a deal – if you would like to see a few case studies, please reach out!
Iterating on Challenge 3: Listening, Learning and Iterating
Scale, scale, scale. You can never underestimate its importance! In our initial designs, we assumed what most buyers meant by wanting "scale" was to have the deal set to select "all publishers" by default. However, even though users wanted scale, we noticed most users went in, unselected our default settings, then selected specific publishers. This meant that we needed to iterate and further improve scale.
When asked how they determined which publishers to select, some buyers revealed lists of publishers and specific data they were looking for. We took this learning and created "smart deals" by looking at the inventory for each publisher and selecting only those that would maximize the impressions based on the targeting criteria from the buyer. We call this new feature "Maximize Reach."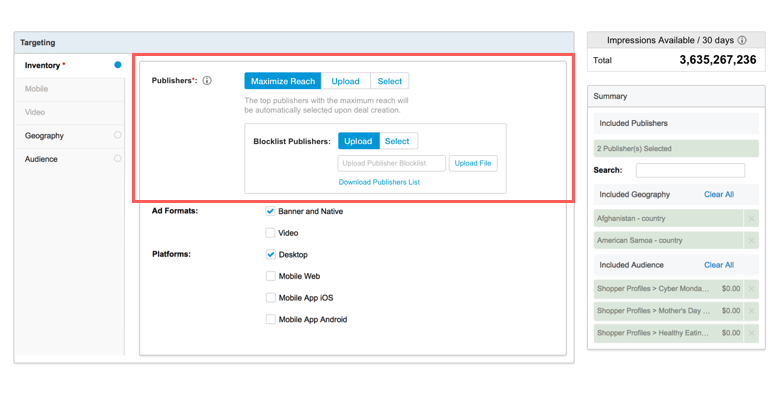 If a user selects "Maximize Reach," our PubMatic system will automatically select the top publishers who have the best inventory for the targeting criteria the buyer selects, thus giving the buyer the most impressions. A user would also be able to play around with their targeting to see how it would affect their total available impressions.
During feedback sessions, several users expressed interest in the functionality and confirmed this tool would help them when they were looking for the most scale for both general and specific targeting parameters, depending on their campaign goals. They also verified the necessity of having the blocklist ability for both uploading a list and selecting specific publishers, and their IDs, from a list. This gave us confidence in our designs and our development team at PubMatic is currently building this feature.
What's Next?
To learn more about our PMP solutions, check out our PMP product page, recent case studies or contact us. Stay tuned for the second part of this post where I will highlight our solutions for the final two challenges.