At PubMatic, we are tireless in improving our analytics for you. To keep our customers and partners informed of our regular platform updates, we will be starting a mini-blog series. Once a month, we will highlight some of the changes and updates made. Your feedback is invaluable and we welcome your insights.
Analytics for One and All
This month, we are highlighting our improved analytics functionality. We heard your requests for customizable reports loud and clear. We understand that analytics can be a black box for many, so we invite you to think of our October 25th release as analytics-by-humans-for, you know, -humans.
PubMatic's monthly analytics updates will streamline your data queries with seamless workflows in two ways:
Comprehensive technical documentation.
Customized reporting to deliver Unified Ad Server (UAS) publishers with streamlined data for guaranteed and programmatic deals.
New Seamless workflows:
Our mission is to humanize analytics, which is why we designed the workflow with our customers in mind. Therefore, our entire interface is tab-navigable from dimensions to filters and metrics. Keep in mind that if you don't need a filter, just skip it. And if you forget a dimension, you can toggle back and add it with ease, since you now can generate your report from any tab.
Now, queries are tailored to rapidly retrieve your data. Modify reports on the fly, without having to pause to call up other reports like before. The days of set options are in the past (select a date, then a dimension, then-metrics, no-wait, I forgot a dimension, I have to go back to revisions). Today, the workflow mirrors your logical pathways through analysis.
Technical Documentation:
All UAS users now have comprehensive technical documentation with step-by-step walk-throughs, commonly asked questions and best practices. And just in case you can't find the answer to your question, you can always rely on PubMatic's services team who are ready to help you around the clock.
Custom Reporting for UAS:
Producing actionable insights from data is an art—not dissimilar to the culinary arts. After compiling feedback from UAS' users, we are unveiling our new analytics chef, of sorts, to slice-and-dice your data ingredients: We call it Custom Reporting.
For too long, analytics vendors have played the role of that fusty waiter, ladling over the same bland, pre-packaged menu of metrics. It is no wonder customers grouse about lost appetites with lackluster reports unable to be adapted to their evolving tastes and business needs. Out-of-the-box reports, are even more stale, piling on endless plates of data.
Plus, the volume problem is compounded by the numerous varieties of programmatic data. PubMatic's UAS processes two types of data cuisine: 1) programmatic and 2) guaranteed. However, we are also dealing with a fusion of data cuisine—combining programmatic and guaranteed, which is often called unified data. A refined master chef who is uniquely trained to prepare this unified data is necessary. But let's not forget custom reporting.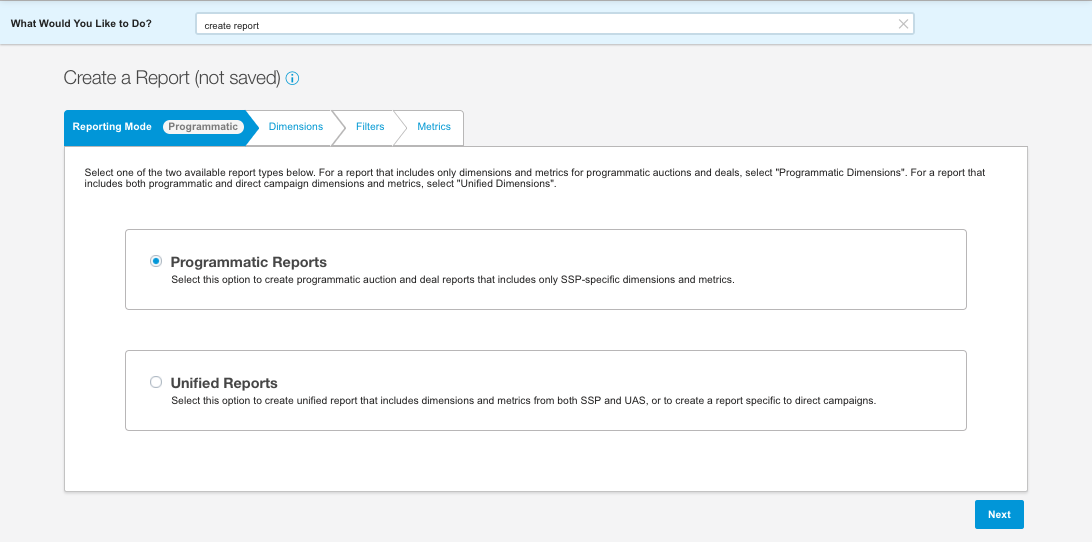 Think of custom reporting as the swanky new chef with a specialty in data unification; serving up publishers' unified data for guaranteed and programmatic line items. Indeed, custom reporting brings a lot to the table such as:
Unlimited drill down reporting
Custom reporting cuts the fat to deliver you the meaty insights about your audiences. Sizable data dumps are a thing of the past. PubMatic's custom reporting now trims your data to the granularity you desire.
In a manner of seconds, one of your analysts can drill into the data to explore pivotal business inquiries. Insights that would be difficult and time-consuming using other tools. In the example below, I can toggle between Dimensions, Filters, and Metrics and generate the report from any tab.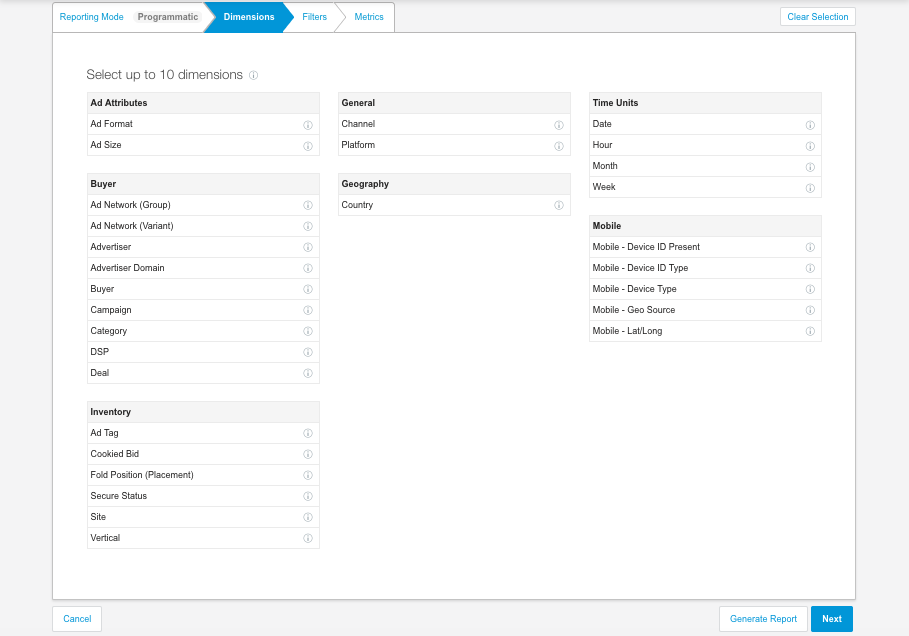 Advanced segmentation
Custom reporting empowers you to compare segments side-by-side and drop key dimensions and metrics. Build and monitor sections to discover valuable insights.
Faster time-to-insights
High-quality reporting is a hallmark of PubMatic's analytics. Peter Brodersen, Programmatic Manager at Hemnet Service HNS AB, recently said, "I think that the analytics is world-class. You get what you need to know instantly!"
With custom reporting's limitless breakdowns and seamless functionality, you can quickly observe what is occurring within your campaigns. You can monitor trends and react to anomalies to gain key competitive advantages over other companies.
Analytics for the Win
Our October 25th enhancements are another step forward towards our destination: analytics that seamlessly show you conversion data across programmatic and direct for a truly unified view.
Stay tuned for more goodies coming next month.