At PubMatic, commitment to integrity is one of the core values that we live every day. We are dedicated to practicing high ethical standards and treating others fairly and with respect, and understand that we must embrace a diversity of ideas and expertise in order to provide our clients and partners with creative solutions to their most challenging monetization and advertising problems. Last year, in an effort to quantify this commitment, we embarked on an initiative to evaluate and accelerate diversity and inclusion across our organization.
Diversity and inclusion have a material impact on our business, particularly in the following areas:
Finding the best talent: As a global company, we recognize and respect the differences that exist among our employees. Our goal is to attract and retain the best talent in all of the markets in which we operate.
Empowerment through inclusion: It is important that all of our employees feel empowered to share their unique perspectives within an open work environment, which in turn allows us to create the most innovative solutions for our customers.
Pay parity: We are committed to providing equal pay to all employees for substantially similar work, not only in the United States, but within each of our offices around the world.
WHERE WE ARE TODAY
Global Gender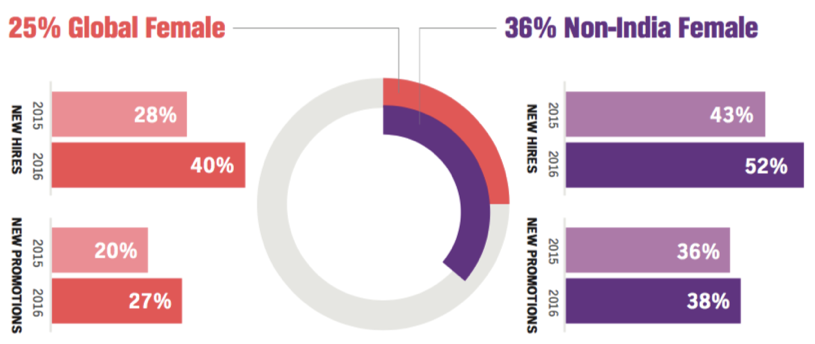 Note: India has been separated out from the analysis due to the unique dynamics at play for women in the Indian workforce, and the fact that nearly half of our global employees work out of our Pune or New Delhi offices.
US Race & Ethnicity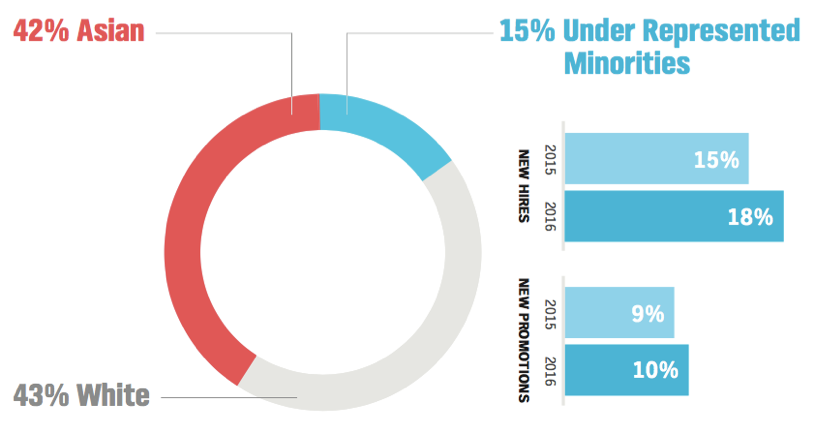 THE PATH FORWARD
While we are pleased with both our efforts and our results in the area of diversity and inclusion, we also understand that there is much work to be done.
Fostering greater diversity in our engineering and leadership teams remains a priority. Among our global technology organization at the end of 2016, 17% were female and 8% were under-represented minorities.  Within our leadership, 20% were female and 6% were under-represented minorities. PubMatic is also focused on growing the number of women in our Indian workforce as more women join the talent pool. We are reviewing and refining our taken sourcing strategies and interview processes to encourage more female inclusion.
We strive to discover and implement best practices in order to increase our workplace diversity, both locally and globally. This includes reviewing our hiring, compensation, and promotion practices to ensure fairness, diversity and inclusion, and casting a wide net to recruit and retain the best and most diverse talent available. Indeed, not only is diversity and inclusion the
right thing to do, but we believe that the varied perspectives and range of ideas that result from a diverse and inclusive workforce will help us to best serve our customers worldwide.
Download the full PubMatic Diversity & Inclusion Report 2016 by clicking here.